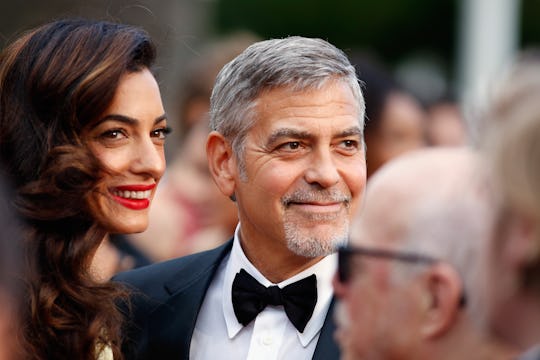 Tristan Fewings/Getty Images Entertainment/Getty Images
Where Exactly Did Amal Clooney Give Birth?
Just when you thought it was going to be a typical Tuesday, news broke that Amal and George Clooney welcomed twins, Ella and Alexander. (I know, the names are pretty much perfect, am I right?) And while there are still many questions that have yet to be answered — like did Amal have a C-section? — one that I find myself particularly curious about is: where did Amal Clooney give birth? Considering how often these two travel, it seems like a pretty fair question.
E! News has reported that Amal was all set to give birth in London, England, according to a source. This makes a lot of sense, especially since the couple currently live in that general vicinity. According to People, the duo have a home west of London. Granted, this doesn't exactly narrow down the location much in regards to a specific place where she gave birth. But regardless, the twins more than likely have been born on London soil. (Is it too early for me to start thinking about the possibility of them developing adorable British accents?)
However, I don't think the decision of where Amal would give birth was made lightly. Back in February, George confided to Paris Match magazine that they were having a difficult time deciding the best place to raise their children, since they considering so many different places to feel like home. "We have the chance to live between three countries: Italy, America and England," he told the outlet. "But as soon as the children go to school, it'll be necessary to choose where to settle. In the meantime, we will continue to move according to our respective schedules."
So while the actual birth seemed to have taken place in London, that doesn't mean they still won't be travel with the little ones. Though London could end up being their main stomping grounds.
The spokesperson for the Clooneys has already reached out to several outlets, including USA Today with an official statement regarding the highly anticipated births:
This morning Amal and George welcomed Ella and Alexander Clooney into their lives. Ella, Alexander and Amal are all healthy, happy and doing fine. George is sedated and should recover in a few days.
But regardless of where they end up, I think it's clear that they couldn't be happier to have their family double in size. Congratulations to the newly proud parents!