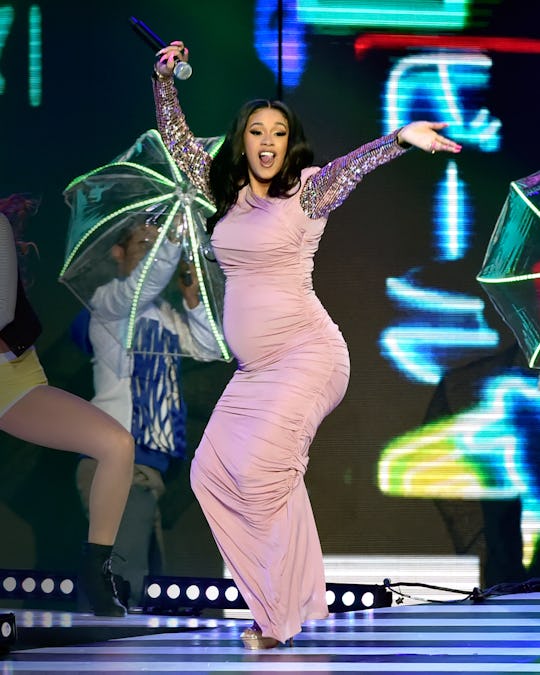 David Becker/Getty Images Entertainment/Getty Images
Here's Where Cardi B Reportedly Gave Birth To Her Baby Girl
After a slew of secrecy and anxious fans waiting with baited breath, it has finally happened: Cardi B has given birth. According to TMZ, the incredibly successful rapper gave birth to a baby girl Tuesday night, and with her new husband, rapper Offset, by her side. So, where did Cardi B give birth? While I'd argue there isn't a single spot on the planet that a celebrity of Cardi B's stature can give birth secretly or without at least a few nosey nancy-types attempting to crash the party, the location is a far cry from Los Angeles or New York City.
Per TMZ, Cardi B and offset have named their brand new baby girl Kulture Kiari Cephus, and baby Kulture entered the world in a hospital in Atlanta, Georgia. The "Bodak Yellow" rapper let her fans know she's now a mom via Instagram, with a simple caption of her daughter's name and birth date accompanying a picture featuring a beautiful nude photograph of the rapper holding her baby bump in her arms. Well, now Kulture is on the other side of her mom's stomach, and from the post alone it's safe to say the new mom is over-the-moon happy about her baby girl's arrival.
The new mom is already facing some intense backlash (go figure), from fans accusing her of "stealing" Beyoncé's iconic photo shoot to people lamenting about the new baby's name, which is probably why the couple didn't post a picture of the newborn. Cardi B and offset are celebrities, yes, but the constant negative comments are unwarranted, especially when they're directed at a new mom who gave birth no more than a day prior. It's no wonder that Cardi B not only attempted to keep her pregnancy secret for as long as possible, but didn't tell anyone she secretly wed Offset in September of 2017, either.
As for the location of the birth, little is being reported of the actual hospital. Per TMZ, the new mom did give birth in Atlanta, and at a hospital as apposed to a birthing center and/or at home, and she did have her husband by her side. But the name of the facility or its specific location haven't been reported on by the press. And again, given the backlash already aimed at the new parents, it makes perfect sense that the couple would want to keep the location of their new daughter's birth under wraps. In other words, this is why we can't have nice things, people.
How comfortable her husband, Offset, is in the South might also give fans a clue as to why the Grammy award-winning rapper gave birth in Atlanta and not, say, in New York City, where she's from. During an interview with GQ Magazine, and while discussing an upcoming wedding celebration in Atlanta, Cardi said:
[Offset]'s never comfortable in New York. He loves down south. He told me to move in with him, in Atlanta. I stayed in his house a couple of times, but it's so hard to live there. He decided, though, that we're going to build a house in Atlanta, and that's the house that we're gonna raise our kids in. But my job is in New York, always, so I can barely spend time in Atlanta.
Knowing that the couple planned on raising their kids in Atlanta, it make sense that their children, staring with their daughter, would be born in the same city, too, and in a spot where everyone, including dad, is comfortable living.
One thing is for certain: fans of Cardi B should prepare to be on the receiving end of a slew of real talk about motherhood. With her no-filter attitude and unapologetic demeanor, having this rap goddess as a new mom is going to be a breath of fresh air for every overworked, exhausted, overwhelmed mom who just wants to hear the truth about motherhood.