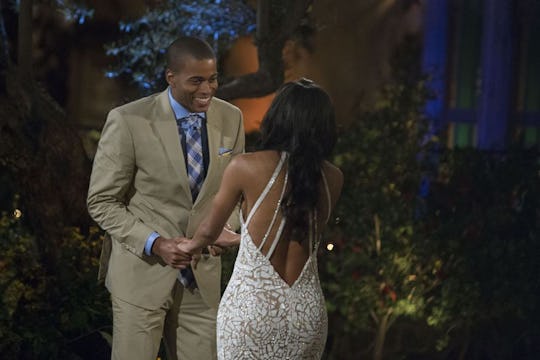 Paul Hebert/ABC
Eric From 'The Bachelorette' Has Made A Career Out Of Motivating People
In a world of aspiring drummers, personal trainers, and tickle monsters, you come to have varying expectations for the men of The Bachelorette. But Rachel's season has proven to have the majority of men with stable and impressive careers. Sure there's been the occasional tickle monster and whaboom guy, but for the most part it's been a pretty great selection of contestants. One candidate who seems to have immediately stood out to Rachel is Eric. And since we still know very little about him, some viewers may be wondering: where did Eric from The Bachelorette go to school?
The contestant owns his own fitness training company, EBiggsWay Training, but has also made a career out of inspiring others as a motivational speaker. And to be able to work in both fields successfully, he went to college. First, Eric attended Howard Community College, where he earned his associate's degree in business administration and management. Then, in 2010, he graduated Magna Cum Laude from Hampton University with a bachelor's degree in entrepreneurship.
His official job title on The Bachelorette might be personal trainer, but clearly Eric is so much more than that, if only evidenced by his education. On his Instagram, there are tons of inspirational posts and quotes, along with long captions meant to motivate and inspire others. And, according to his website, this part of his career enabled him to gain national exposure as a motivational speaker.
Through his e-books 100 Days of Wisdom and Quotes To Shape Your Life, Eric has been able to reach a wide audience and inspire others and was even featured on The Kris Jenner Show for it. While he was in community college though, he was really into basketball and although he only went to Howard Community College for two years, he posted a photo of himself from that time and noted: "Junior College Days "Howard Community College" basketball was my life back then!! Leading, guiding and directing my troops since day one! My mother always told me "not to worry about the price you have to pay, just keep your eyes on the prize." Point-Forward...Fearless Warrior! The priceless days!"
Eric's education and years of college enabled The Bachelorette contestant to not only follow his path as a motivational speaker, but also the business side of him as the owner of his fitness training program. Clearly, he has a lot to offer Rachel and if the past few years of his life were more about working on his different business ventures than being in romantic relationships, then more power to him for making that sacrifice. Now, however, it seems like he's definitely ready for something real with Rachel and it's safe to say that she's starting to see that too.