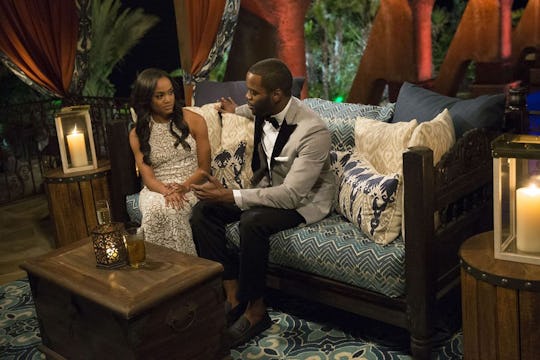 Paul Hebert/ABC
Josiah & Rachel Have A Lot In Common Outside Of 'The Bachelorette'
A big part of Rachel's life is her career as an attorney in Dallas, Texas, so naturally there had to be a few men this season who shared her passion and even career choice. I don't know if that makes either of those men her perfect match, but it certainly seems beneficial to share some common ground. Along with contestant Jack Stone, Josiah is one of the attorney's currently competing for Rachel's love. But because he has such an impressive career, it's possible to wonder: where did Josiah from The Bachelorette go to school?
The Bachelorette contestant has a lot in common with Rachel when it comes to their career choices, but he got his education at a college far from hers. While Rachel was attending Marquette University Law School in Wisconsin, Josiah was working on his degree at the Florida State University College of Law. According to his LinkedIn profile, Josiah graduated from the University of Central Florida first and went on to gain his juris doctor degree from the Florida State University College of Law in 2014.
His extensive education afforded the 28-year-old Bachelorette contestant the knowledge needed in order to pursue his career as a prosecuting attorney and right now he's an Assistant State Attorney for one of Florida's largest prosecutor's offices. He's also an associate attorney for the Fort Lauderdale injury and wrongful death firm Kelley/Uustal.
According to the firm's website, Josiah has been able to do a lot of good while working for the Broward County State Attorney's Office and has "advocated on behalf of thousands of victims throughout the community and tried more than 30 jury and non-jury trials." And Josiah not only earned his degrees in the span of seven years, but also proved himself along the way.
During the different mock trial competitions over the years at the Florida State University College of Law, Josiah competed against several different prestigious colleges in order to succeed in each competition. For the National Black Law Students Association (BLSA) Thurgood Marshall Mock Trial Competition, Josiah and his team competed against schools like the University of Washington School of Law and even Harvard. His team ended up placing first, and Josiah received the award for Best Advocate.
At first, simply having a similar career might not seem like the biggest thing to link The Bachelorette contestant and Rachel together, but it's also a high-stress job that not many people would likely understand. So Rachel finding a partner in Josiah — as someone who gets her on an important level like that — can only be a good thing.