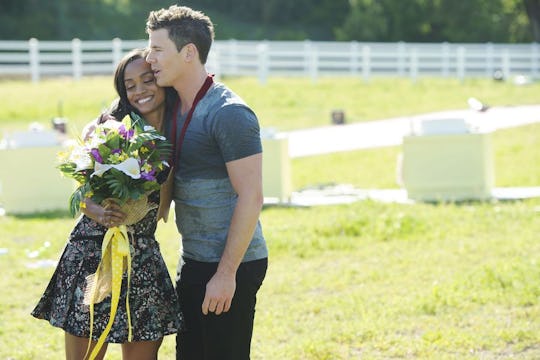 Michael Yada/ABC
Lucas From 'The Bachelorette' Has An Impressive Education
Even though he's hard to take seriously, even when he's not shouting his now-famous catchphrase, the truth is that Lucas from The Bachelorette has an actual career and impressive education under his belt. So where did Lucas go to school? The Bachelorette whaboom guy might come across as gimmicky most of the time (OK, more like all of the time), but in actuality, he's able to look pretty good on paper.
According to LinkedIn, Lucas went to the University of California at Berkeley where he majored in Legal Studies with a business focus. Now, that may not sound like the whaboom guy we've all come to know and love/hate (depending upon your mood), but it is an education that afforded Lucas the opportunities to work with several different production companies and start his own, YKnotWorld Productions.
Education aside, from the start it has felt like Lucas didn't come on The Bachelorette for the so-called "right reasons" in order to win Rachel's heart. Instead, he's spent much of his time promoting whaboom any chance he gets, making his motives seem less than pure. But hey, at least along the way he's been able to entertain and make Rachel laugh every so often. So that's definitely something, I suppose.
But fellow contestant Blake E. hasn't found the whaboom guy to be very funny this season and Monday night he decided to call him out. Why? Because this is The Bachelorette, where everyone says anything they want as long as it creates the right amount of drama.
Basically, Lucas and Blake E. already know each other and Lucas' ex-girlfriend actually lived with Blake E. However, these two contestants were already on a reality TV show before. The two previously appeared on the WE reality series Ex Isle, so Blake thinks Lucas just sees The Bachelorette as yet another opportunity to claim the spotlight. Naturally, there's still some kind of bad blood between the two, bringing Lucas' intentions on the show into question even further.
But long before Lucas was the whaboom guy on The Bachelorette and making the rounds on reality TV, he was a student at UC Berkeley and soon after, an office and set production assistant for The Farrelly Brothers with Conundrum Entertainment. But while his passion clearly lies in acting and doing everything he can to always remain the center of attention, his other job is where those Berkeley business studies come in.
According to his website, Lucas also works as a private developer and investor in real estate and owns and manages properties in San Francisco and Los Angeles. So while we all know him (and will forever only know him) as the whaboom guy, Lucas also apparently has an actual accredited education that could have made him more of a trustworthy contestant this season rather than the attention-seeking one.