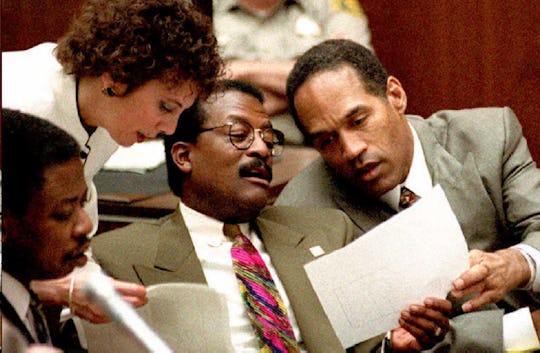 Pool/Getty
Where Did OJ Simpson's Nickname, Juice, Come From? It Goes Back To His Football Days
The buzzed-about new series American Crime Story: The People vs. O.J. Simpson premieres on FX Tuesday, depicting the high-profile (and highly controversial) murder trial of O.J. Simpson in 1995. It's been more than 20 years now since Simpson, or "Juice," as he was known back then, was acquitted for the murder of his ex-wife Nicole Brown Simpson and her friend Ron Goldman, but the story of perhaps the most famous televised murder trial of all time still captivates audiences. According to E! News, the FX series is based on Jeffrey Toobin's book about the Simpson trial, The Run of His Life: The People v. O.J. Simpson, and takes a deeper look into the aspects of the story that didn't always make the headlines.
But viewers who weren't glued to their screens during the trial in the '90s (I, for one, was only 9 years old!), might not be super familiar with the ins and outs of the famous case. Things like the white Bronco and the too-small, blood-soaked glove are pretty well-known details, but other aspects of the trial, like who Simpson's legal team was, how they developed their defense strategy, and why it took only four hours for the jury to decide Simpson wasn't guilty when there was so much evidence against him are things that might not be clear to younger viewers. (Romper has reached out to Simpson's legal team for comment regarding Simpson's involvement in Brown Simpson's death.) And, other than being the guy from the murder trial, why is Simpson famous? And why do they call him Juice anyway?
According to People, Simpson was a big deal in the '70s, when he played football in the NFL. After winning the Heisman Trophy in 1968, he joined the Buffalo Bills and later the San Francisco 49ers, becoming "one of the greatest running backs in NFL history." His athletic prowess led him to commercials and small movie roles, and he also had a stint as a commentator on Monday Night Football. He earned his nickname during his pro football days — it's a play on the name O.J. — and it's still used today to refer to the former NFL star.
In fact, in one of the many truly cringeworthy decisions Simpson has made since his acquittal (remember his book, If I Did It? Ack!), he put his famous nickname to work in 2005 as part of a short-lived, hidden-camera reality show called Juiced. According to Vice, Juiced was "a Punk'd knockoff straight-to-DVD, hidden-camera prank show," where Simpson tried to prank unsuspecting people in some pretty unbelievable ways (like trying to sell his bullet-hole-ridden Bronco to shoppers at a used car lot, and no I am not kidding), before laying down the punchline — "you've been Juiced!" (nope, still not kidding).
Juice may not have been sent to prison for the murder of his ex-wife, but that doesn't mean he's a free man: according to People, Simpson, now 68, is currently serving time at Lovelock Correctional Facility in Nevada, for charges related to a robbery at the Palace Station hotel in Las Vegas. He will be up for parole in 2017.