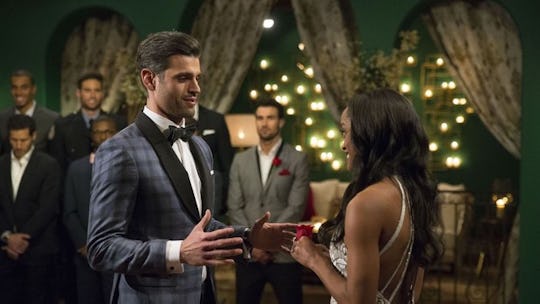 Paul Hebert/ABC
Peter From 'The Bachelorette' Is Very Dedicated To His Work
On every Bachelor Nation season, there are a few contestants that stand out from the crowd — either in a good or a bad way. The "good way" folks emerge as early frontrunners, and though they don't necessarily always win their seasons, more often than not, that first spark is enough to seal the deal. Case in point: JoJo Fletcher and Jordan Rodgers immediately hit it off on Season 12 of The Bachelorette. That may end up being the case once again with Season 13 contestant Peter Kraus, and now, viewers want to know all about him — like where did Peter go to school prior to The Bachelorette?
Some prior Peter-related social media and Google sleuthing revealed that the Wisconsin native (who has been labeled a "business owner" by occupation by ABC in his bio and on-screen scrawl) owns a personal training company named Worth Personal Training. In 2012, he was even named as one of Chicago's hottest personal trainers by Time Out Chicago. He's also worked as a print model, which is unsurprising because... well, I mean, come on. Just look at the guy.
While the fitness/personal training industry doesn't necessarily require any sort of formal education or schooling, some type of instruction typically helps and makes a trainer seem more legit — and that appears to be the case with Peter. According to his LinkedIn profile, he's been a personal trainer since at least 2009 and attended Madison Area Technical College in his hometown from 2008 to 2010. While there, he received an Associate of Science Degree in Dietetics/Dietician and completed clinical nutrition internships at the University of Wisconsin Hospital and Badger Prairie Hospital.
Fitness is obviously very important to Peter. Based on his social media activity, he's returned to his personal training work since filming for The Bachelorette wrapped a few months ago. On Tuesday, he even posted a photo of himself celebrating his first full week back at Kamps, the bootcamp where he trains.
Peter is a definite frontrunner in more ways than one — not least of all because he won the first one-on-one of the season with Rachel after getting called first in the first rose ceremony. Based on their adorable first date (chaperoned by Copper!), there's no doubt that the gorgeous gap-toothed pair are a great match. Personally, he's my pick to win the season, despite the fact that we're only two episodes in. He seems to be genuinely into Rachel, and he's a great catch, both in terms of looks and personality.