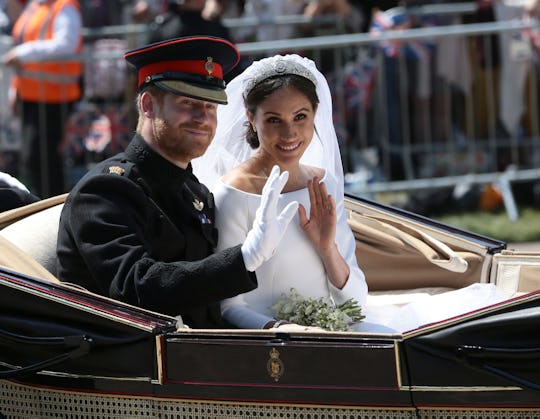 WPA Pool/Getty Images Entertainment/Getty Images
Here's Where Newlyweds Prince Harry & Meghan Markle *May* Have Spent Their Honeymoon
Before the Duke and Duchess of Sussex officially tied the knot in May, rumors swirled regarding where Prince Harry and Meghan Markle would be honeymooning. And now, nearly a month later, fans might finally have some answers. According to E! News, the couple reportedly went to at least two countries in East Africa for their honeymoon. Of course, this is coming from an unnamed "source," so take the info with a grain of salt.
"It was the perfect break and blend of their passions," the source reportedly told E! News on Wednesday. "Restorative and the perfect holiday before starting a very busy second half of 2018." The source added that Prince Harry and Markle reportedly went on outdoor adventures including safaris, and also spent time chilling in the sunshine. And according to bookie predictions published just after the wedding, the couple's most likely choices for a honeymoon destination were an African country, with Namibia, Botswana, and Tanzania topping the lists, as Express reported at the time. (Tanzania is the only country of those three in East Africa.)
Now, this is all just according to an anonymous source and bookies — but based on comments another source gave E! News in April, things do add up. "Going somewhere they can bring minimal security too and not worry about people seeing them has been of the utmost importance," they told E! News at the time, adding that the priority for their honeymoon was privacy. Considering that (which totally makes sense, given how exhausting planning their royal wedding must have been), it adds up that their honeymoon has not yet been publicized.
It would appear that the couple was away on their honeymoon from May 23 until June 6. The royal couple appeared at Charles, Prince of Wales' 70th birthday celebration on May 22 (just three days after their wedding), and neither of them were spotted again until Thursday, June 7, when Prince Harry attended the OnSide Youth Zones gala dinner as the guest of honor, as People reported. The publication added that they were gone for two weeks, which is the exact length of time they were not seen in England. It all adds up!
Not to mention, it makes sense that Prince Harry and Markle would spend their honeymoon in Africa, if that's actually where they went, considering the significance of Botswana to the couple — a topic they opened up about in their post-engagement joint interview, according to ABC News. The Duke and Duchess vacationed together in Botswana, a country in Southern Africa, early in their relationship; not to mention, Prince Harry sourced the large central diamond for Markle's engagement ring from Botswana, according to ABC News. "To be able to have this which sort of links where you come from and Botswana which is important to us and it's — it's perfect," Markle said to Prince Harry in the interview about the ring, which also features two diamonds from Diana, Princess of Wales' collection.
Even though Botswana is not in East Africa, the regions do neighbor each other. In fact, Botswana, a landlocked nation, directly borders Zimbabwe, which is regarded as part of both East Africa and Southern Africa, according to the European Commission. Who knows, perhaps Markle and Prince Harry stopped in Botswana on their way home?
All that being said, it will certainly be interesting to see if Prince Harry and Markle ever formally announce where they spent their honeymoon. Considering their well-deserved preference for as much privacy as possible, it would make sense if they chose to never reveal their honeymoon details.
Conversely, after Prince William and Kate Middleton's honeymooned in Seychelles (which they also kept hush-hush beforehand for security reasons), they confirmed that they spent their honeymoon on the archipelago east of Africa. After the couple returned to England, Kensington Palace issued a statement, telling news outlets that Prince William and Middleton "thoroughly enjoyed their time together, and they are grateful to the Seychelles government for their assistance in making the honeymoon such a memorable and special 10 days," as People reported at the time.
Whatever Prince Harry and Meghan Markle choose to do, hopefully they had a wonderful, relaxing time on their honeymoon.