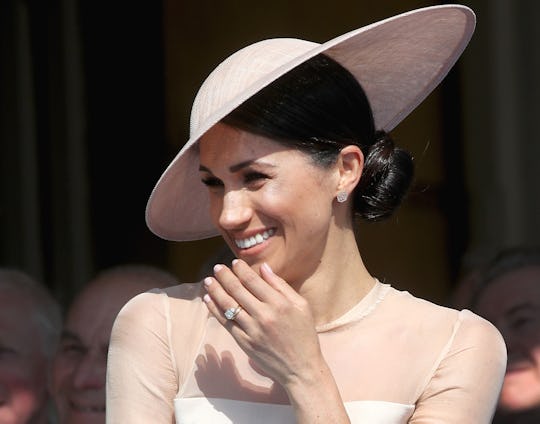 Chris Jackson/Getty Images Entertainment/Getty Images
So *This* Is Why Meghan Markle Was Giggling At Her First Royal Outing With Prince Harry — VIDEO
Now that she's officially a member of the royal family, Meghan Markle — err, Duchess Meghan — will have to get used to attending plenty of events and smiling for the press. Well... she might already be used to that. But still, it's surely a bit more intense now, so it's nice to see the former actress still being her adorable and relatable self. For instance, this video from Tuesday of Meghan Markle giggling at Prince Harry because a bumblebee got a little too cozy with him is basically all the proof you need that, at the end of the day, the new royal is still totally down-to-earth.
Yes, on Tuesday, May 22, a mere three days after their wedding at St. George's Chapel, the Duke and Duchess of Sussex made their first joint appearance as husband and wife to celebrate Prince Harry's father's, Prince Charles, 70th birthday, according to Kensington Palace.
Obviously, it was a happy occasion, but there was also one moment during Prince Harry's speech when a friendly bee got a little too close for comfort. During his speech about how much he admired his father, Prince Harry paused to explain, "Sorry, that bee really got me," when he swatted the insect away. And while his explanation was pretty funny, so was his new wife's reaction. As the encounter unfolded, Duchess Meghan was giggling at her husband, making her even more adorable than before, as if that's even possible.
As seen in the above video, shared on Twitter by royal correspondent for the Daily Mail, Rebecca English, Markle can be seen laughing as her husband explained the bee situation and then whispering to Prince Charles and his wife, Camilla, the Duchess of Cornwall, likely about what all the fuss was about. Subsequently, all three onlookers end up giggling, and it's a fantastic moment.
And considering the fact that the newlyweds Aare very much the modern couple, people online were loving how relaxed Markle seems in her new post:
The event on Tuesday was pretty important for both the royal family and citizens of Great Britain as well, as People reported. According to the publication, the event that Prince Harry was speaking at was a garden party at Buckingham Palace for all that his father has done, and also honored all the first responders of the terrible terrorist attack at the Ariana Grande concert in Manchester last May.
Obviously, the event was kind of a big deal, and it's nice that the newlyweds were able to laugh and enjoy it, showing the public that they truly are a united front.
Many royal spectators wondered when the couple would take their honeymoon, considering they were only married a few days ago. However, a Kensington Palace spokesperson told People that a honeymoon would be taking place, but just not immediately following the wedding. Jason Knauf told People, "The couple will be going on honeymoon, but not straightaway. They will have their first engagement as a married couple in the week after the wedding."
The Duke and Duchess of Sussex are clearly ready to take on their new roles as a married couple. And while it's true that weddings aren't necessarily indicative of how great a marriage will be, Prince Harry and Markle's nuptials on Saturday was absolute perfection. Between Markle's gorgeous dress, the adorable page boys and bridesmaids, and Markle (partly) walking herself down the aisle like the queen — or rather, duchess she now is — the day was filled with pure joy and love.
And now they're getting to start out their lives already filled with enough love and joy to last a lifetime, and it's all starting with one little bumblebee. Because seriously, the world might feel like it's in shambles right now, but seeing two people in love can make everything else seem a little less awful, if only for a moment.
Congrats, again to the new Duke and Duchess of Sussex. Oh, and also to that bumblebee, who got closer to the royal ginger than most people could ever dream of.