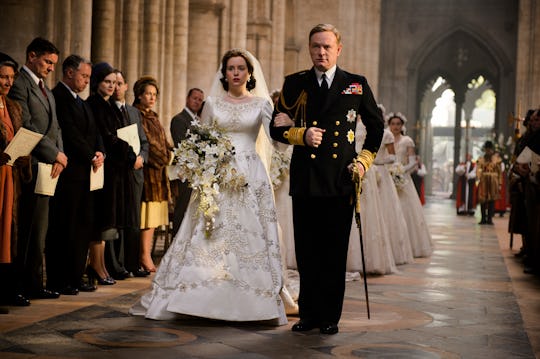 Alex Bailey/Netflix
Where Did Queen Elizabeth II & Prince Philip Get Married? 'The Crown' Has A Royal Wedding
If the trailer for the upcoming Netflix series The Crown has shown us anything, it's that we're going to be given a never-before-seen glimpse into the early years of Queen Elizabeth II's reign, as well as her marriage to Prince Philip. In fact, at the start of the season, viewers will get up-close look at the famous royal wedding itself. And since I'm sure the location might look strikingly familiar, many of you may be wondering where did Queen Elizabeth II and Prince Philip get married? Like the more recent royal wedding between the now Duke and Duchess William and Kate, Queen Elizabeth II and Prince Philip's wedding was at Westminster Abbey in London.
Typically, the royal family chooses between either Westminster Abbey and St. Paul's Cathedral for their weddings, and while Princess Diana and Prince Charles opted for the latter, royals have been getting married at Westminster Abbey since as far back as 1100, when Henry I married Matilda of Scotland. Before Queen Elizabeth II and Prince Philip were married there, her own parents, Queen Elizabeth and King George VI, were married in the same exact place. So you could say it was a very fitting decision.
And while there aren't many videos of Queen Elizabeth II herself out there from that point in her life, there are a few videos from the wedding that show the awe and spectacle that aren't unlike that of which the Duke and Duchess of Cambridge received during their big day.
On a normal day, Westminster Abbey is actually just a regular church that offers services multiple times per day, and along with Catholic confession, offers "Anointing of the Sick" at any given time. There is also the part referred to as the Westminster Abbey Institute that regularly offers lectures on things like idealism and morality. But, of course, it's most well-known for the many royal weddings that have taken place there, along with royal coronations.
But unfortunately, it won't be the inside of Westminster Abbey you will be seeing in The Crown version of the royal wedding. The scene was actually filmed at Ely Cathedral, which is in Ely, Cambridgeshire and dates all the way back to 672, so Westminster Abbey it is not, but it's another church rich in history. But it makes sense, given I doubt a place like Westminster Abbey wants to be closed off to the public for a TV production, even if it is about the royal family. Either way, though, it's interesting to get a sneak peek behind the curtain and see just how grand the ceremony was.
The Crown premieres on Netflix on Nov. 4 and trust me when I say this is one series you aren't going to want to miss.