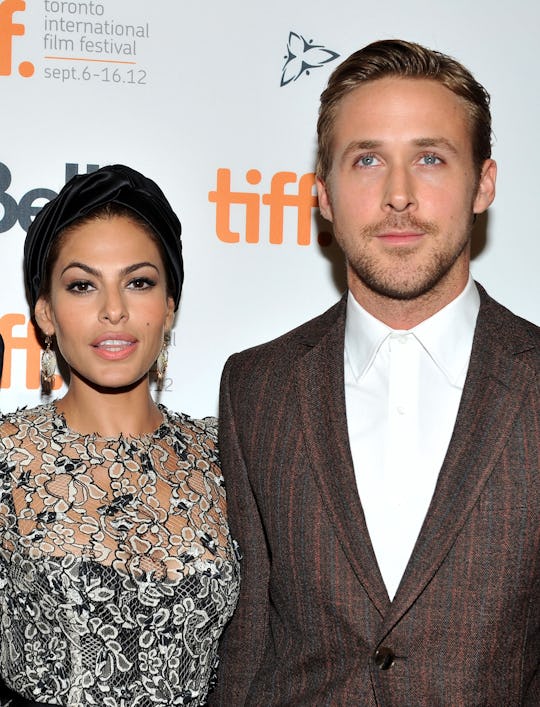 Sonia Recchia/Getty Images Entertainment/Getty Images
Where Did Ryan Gosling & Eva Mendes Get Married? They Kept The Ceremony A Secret
Well, it looks like the gateway to Gosling has now been shut down for good, guys. While the world is still trying to come to terms with the emotional upheaval of the end of Brangelina, another gorgeous Hollywood power couple managed to make news simply by avoiding trying to make news. Ryan Gosling and Eva Mendes have reportedly gotten married, and once again they kept their big life moment under wraps. Gee, sometimes it almost feels like these two don't actually want us to know things.
Update: A "source close to the couple" reportedly told TMZ that the couple did not have a secret wedding, though neither the couple nor their representatives have issued a statement revealing what actually happened.
According to a report by Us Weekly, Gosling and Mendes were secretly wed earlier this year at a private ceremony with a small group of close family and friends (and no, I wasn't invited in case you were wondering). The couple have been together for five years, ever since meeting on the set of The Place Beyond The Pines — that movie people basically only watch to catch glimpses of Gosling and Mendes potentially falling in love on screen. Much like that other couple in the news, Brad Pitt and Angelina Jolie, when they made Mr. and Mrs. Smith. While neither Gosling nor Mendes have offered any sort of comment about their nuptials, a source close to Mendes told Us Weekly,
Eva and Ryan have always felt like a married couple. They are infatuated with each other.
And now let's all take a moment to watch them fall in love on screen.
This whole secret wedding at an undisclosed location thing is sort of par for the course for the uber-private Gosling and Mendes. When their oldest daughter, Esmerelda, was born two years ago, the public found out weeks after the fact when TMZ leaked her birth certificate. The same high level subterfuge ensued when daughter Amada Lee was born four months ago. Pictures of the children are essentially non-existent, which has people doing forensic projections of what their children might possibly look like.
That's not to say Gosling hasn't done a tiny bit of gushing about the lady loves of his life. At the Toronto International Film Festival this year, Gosling (who stars in the upcoming La La Land) told Us Weekly:
I'm a lucky man. We couldn't be happier. They are so sweet.
He even managed to share a sweet private moment on The Ellen DeGeneres Show about taking Esmerelda to the park.
I take my little girl to the park, and we always write her name in chalk, and some kid has been erasing her name and writing their name over it. And this kid has access to an unfair amount of chalk. My little girl doesn't care; she's like, 'Well, let's just chalk anywhere else.' And I'm like, 'No! They're disrespecting your mother because she gave you this name, and they're erasing it. So the only way to really get back at them is to erase their name. And not disrespect their mother, but definitely put her on notice.'
I don't know... they seem pretty happy, guys. Maybe there's something to this whole, keep it secret, keep it safe concept.