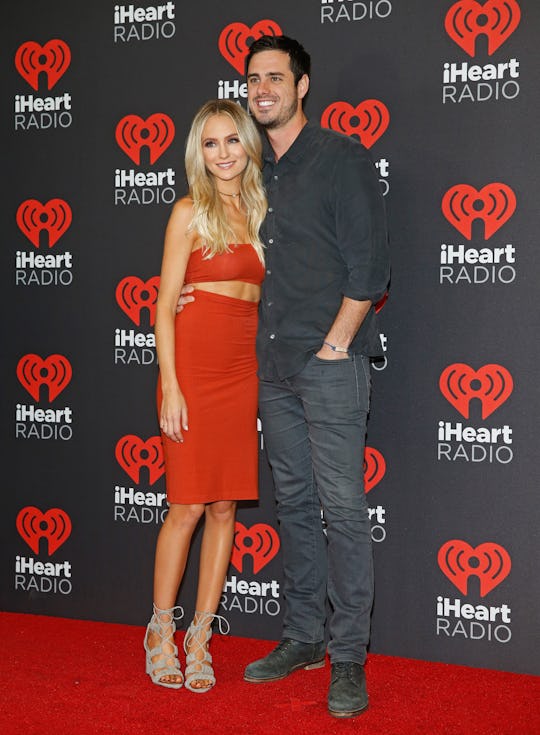 Isaac Brekken/Getty Images Entertainment/Getty Images
Where Do Ben Higgins & Lauren Bushnell Live? 'Happily Ever After?' Has Them Settling Down
It seems like only yesterday, we were watching Ben and Lauren fall in love on The Bachelor. And now, just a few months before a new season of The Bachelor premieres, we have Ben and Lauren: Happily Ever After? set to premiere on Freeform to allow us to continue to be voyeurs of their life together. But now that they're engaged and there's no going back to give the final rose to someone else, where do Ben and Lauren live?
After the big proposal on the Season 20 finale of The Bachelor, the newly engaged couple moved in together in Ben's home in Colorado. Making a move from Oregon to Colorado is no small venture, and you really have to be in love to welcome that much snow and cold into your life on a permanent basis, but that just proves how much love there is between the soon-to-be married couple. It also warms your heart to know that beyond the glamour and fallen rose petals of a reality dating show, a couple can legitimately make it when the cameras go away.
Of course, it's all about to start up again for the Bachelor couple, but Ben and Lauren seem to (kind of) have a hold on things in the promo for their new show on Freeform.
We're going to get to see the couple doing normal things in their Colorado home, instead of weirdly ambitious dates that consist of cave diving or whatever else the Bachelor producers tend to come up with that aren't normal outings for couples. But for those who aren't as obsessed with Ben and Lauren from The Bachelor as others, there are going to be plenty of drop-ins of Bachelor and Bachelorette favorites to keep things interesting and attract viewers from every level of fandom when it comes to Bachelor Nation.
Not only is JoJo going to make an appearance on Ben and Lauren: Happily Ever After?, but Bachelorette Season 12 villain Chad is set to somehow get to go on a camping trip with the couple, and Grant and Lace who found love on Bachelor in Paradise will also be in attendance. The promo also shows the famous twins from Ben's season of The Bachelor, hanging out in the couple's kitchen with them.
So yeah, Ben and Lauren's home seems like it's not only going to be open to the cameras and the peeping Toms in all of us as we watch from home, but to a lot of our Bachelor Nation favorites that we never want to see go away.