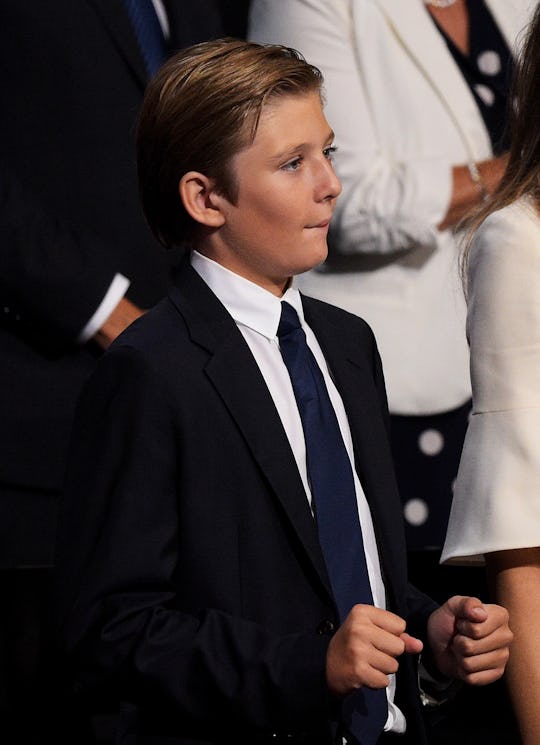 Jeff Swensen/Getty Images News/Getty Images
Where Does Barron Trump Get His Suits? Little Donald's Fashion Game Is On Point At The RNC
Just less than an hour before his father was set to accept the GOP's nomination for president, Barron Trump — business mogul Donald Trump's youngest son — walked into the Republican National Convention like a baller. Well, a very preppy, 10-year-old baller. The youngest Trump is known for having a suit game that's on point like no other celebrity kid. As much as folks want to know who Trump's wife Melania and his daughter, Ivanka, are wearing on Thursday night, the same can be asked of "little Donald." So, where does Barron Trump get his suits? I'm secretly hoping that Tom Ford has a boys line and that Barron is his latest spokesmodel.
No, but seriously — Barron Trump is no sweatpants schlub. He's insanely well-dressed for a kid who just entered double digits in March. Complimenting his stylish RNC suit is the appearance of a radiant glow about him. Perhaps it's from all that $150-an-ounce caviar moisturizer that Melania covers Barron in "from head to toe?" Ah, but I digress. Let's get back to the topic at hand: Barron Trump's suits. Barron Trump loves wearing suits — and it's probably because of the total adoration he has for his father.
The Trump stylist team apparently keeps the makers of Barron's vests to their chest — but I've got a few guesses.
His Older Brothers' Hand-Me-Downs
There may be a pretty huge age gap between Barron and his older brothers Eric and Donald, Jr. — a 22-year and 28-year age difference, respectively — but there's no reason Barron can't raid his older brothers' closets for some swank fashion finds. You might be thinking that with such an age difference, Barron would turn up his nose at such "old" hand-me-downs — unless of course he's rocking a vintage suit kick right now.
From Draco Malfoy's and Richie Riches' Closets
While some on Twitter have said that Barron Trump is definitely giving off a very Tommen — or worse, Joffrey — Baratheon vibe at the RNC Thursday night, Barron wouldn't be caught dead in Designs by Kings Landing. But as some rather astute Twitter fashion fans have noticed, Barron Trump's suit does bare a remarkably resemblance to both Richie Rich and Draco Malfoy circa Deathly Hallows.
...Or From Actual Designers
In trying to answer the question of just exactly where Barron Trump gets his suits, I've discovered the fascinating and at times ludicrous world of children's designer fashion. Turns out, there's an entire insanely-priced market for designer suits for boys — many from some of the biggest fashion designers for me. There's the obvious staples, such as Ralph Polo for boys and Armani Junior. But did you know you can get boys designer suits from Oscar de la Renta and even high end childrenswear from Marc Jacobs? Yeah, that was news to me too. And of course – they'll set you back a pretty penny, from the mid-$300s to over $1,000 per piece.
But then again, when your name is Barron Trump and your dad is poised to become the next President of the Unites States — you can probably get your suits from anywhere you want.