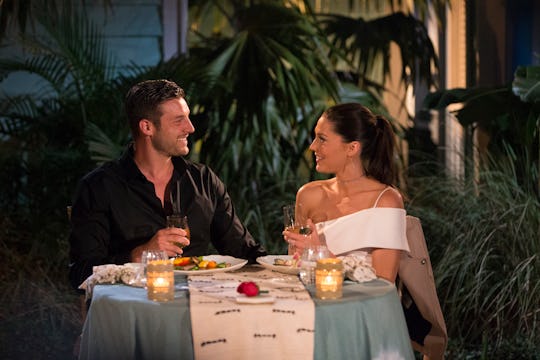 Paul Hebert/ABC
Garrett From 'The Bachelorette' Doesn't Live Far From Home
Becca is down to her final four on The Bachelorette, which means not only are things getting serious, but now it's time for hometown dates, including front-runner Garrett. So, where does Garrett live? Becca will visit his hometown and his family.
According to his ABC biography — and his filmed introduction for the premiere — Garrett lives in Reno, Nevada. He's not from there, however. "Raised in a small town in Central California, Garrett is a true outdoorsman who loves fly fishing, hiking and snowshoeing," his bio states. According to OK Here's the Situation, he's originally from Manteca, California. Garrett apparently attended the University of Nevada, though, so that must have been when he decided to settle around there.
There's not much (non-spoilery) information about Garrett's hometown date floating around as of yet. In April, however, TMZ spotted Garrett and Becca in Manteca. Not only did they explore what the town had to offer and visit museums, but they meet the mayor as well. So, while he himself is currently in Reno, his family is still resides in Manteca.
Garrett has proven to be a controversial contestant this season. Becca gave him the first impression rose during the premiere, but the good impression people had of him soured when HuffPost dropped an investigation that Garrett "liked" offensive social media posts. While it was only the premiere, I could tell that Garrett would make it far in the competition due to the way both he and Becca reacted to it.
Garrett not only scrubbed his social media accounts, but remade his Instagram. His first post was an apology, where he said:
Let my mistakes be a lesson for those who mindlessly double tap images, memes and videos on any social media content that could be many things including hurtful, degrading, and dehumanizing. I do not want my social media to define who I am, and I will take better care moving forward to support all walks of life. Again, I sincerely apologize and am sorry for any hurt, damage, or offense I may have caused.
Becca also spoke out publicly—and defended Garrett. She said in an interview with E!, "Everyone is entitled to their own opinions, and at the end of the day I wanted to go on this journey to open up myself and have people see my love story unfold..." Becca continued, "I would hope that they would stay open and respect me but also stay open and respect these 28 guys that went along on the journey with me." If he was quickly going to be eliminated from the competition, I don't think she would have said those things. So, the fact that Garrett made it to hometown dates is not at all shocking to me.
Besides off-screen drama, his past has also caused a little drama on the show. As it turns out, Garrett was married years before he went on The Bachelorette. Life&Style magazine reported that Garrett and his now-ex, Kayla Cunningham, married in 2015. It didn't last long, though: they broke up six months later. While Garrett told Becca during a one-on-one date that the relationship was dysfunctional, he made it seem like his ex was the one who changed after the wedding. A "friend" of Kayla's told Life&Style that Garrett was apparently the one who turned after the nuptials.
The friend asked, "Why did he marry her and have her family spend thousands of dollars on the wedding, and then all of a sudden say, 'I just can't do this anymore?' ... Her family felt like she had been scammed."
Well, given this is some heavy drama perfect for a show like The Bachelorette, I wouldn't be surprised if issues like these come up during Garrett's hometown date in Manteca.