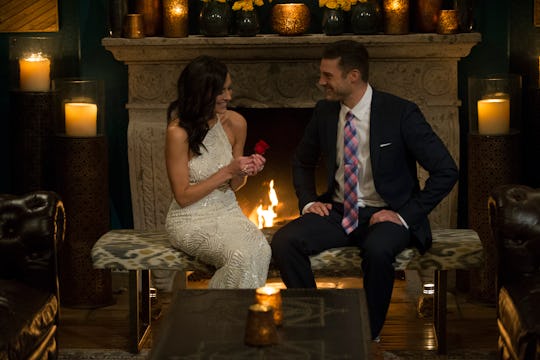 Paul Hebert/ABC
Garrett's Marriage Bombshell On 'The Bachelorette' Has Fans Asking Questions
There's nothing in The Bachelorette handbook that says a contestant isn't allowed to have had a romantic life prior to going on the show. I don't think there even is a Bachelorette handbook, but maybe it should be a thing, since some of these guys just don't cut it. That's not necessarily the case with Garrett Yrigoyen, at least where his romantic history is concerned, but he was married once, so when was Garrett married before The Bachelorette?
He revealed to Becca Kufrin on The Bachelorette Monday night that he has been married before, albeit for a short time, so at least he was honest and upfront about it as soon as he was able to be. He could have easily kept the short-lived marriage from her for the duration of the season and flew high on her hopes and dreams all in the Garrett basket, but at least he told her early on in their "relationship."
According to Garrett's account of the story, he dated his ex-wife for a year and a half before getting engaged. A year after that, they were married for a couple of months before calling it quits. Although he wasn't too clear with the exact timeline in terms of how long before he came on the show this all went down, Life & Style Magazine reported that Garrett married his now ex-wife, Kayla Cunningham, in 2015.
Their divorce was reportedly finalized in March of 2016, so it really was a quick marriage, and it does seem as though Garrett could be ready to move on with Becca. There's no set amount of months or years it should take one spouse to get over the other after a divorce, but given the fact that they split so soon after their nuptials shows that at least they had the hindsight to realize they were obviously not meant to be together. I don't know what that means for Garrett and Becca if they end up engaged by the end of the season, since their relationship will have been a lot shorter than Garrett's was with his ex-wife before their wedding, but that's what social media stalking is for, am I right?
But if Garrett was married in 2015, that means he was just 26 years old, which is still old enough to know what you're doing, but in a way, still young enough to make mistakes and learn from them. His divorce was also finalized almost three years before he became a contestant on The Bachelorette, so it's safe to say that it's definitely in his past, though he's been pretty upfront about it with Becca thus far, so you have to give credit where credit is due.
On The Bachelorette, Garrett explained that he and Cunningham fell in love after college and that her sense of adventure attracted him to her and from there, their relationship flourished. Of course we now know that it all ended in heartbreak. Still, if Garrett loved once before, he can certainly do it again with Becca and even commit to another marriage, even if Becca herself has never been married and intends to be engaged and married once. Side note: let's just pretend that Arie Luyendyk Jr. never happened — it's best for everyone involved.
Hopefully, Garrett's openness and honesty with Becca continues to work in his favor and as of right now, it would seem that his romantic history is of no real concern for her. There are, however, several weeks to go and several other men who she seems to have a real connection with, so time will tell how strong Becca and Garrett's bond really is, especially after this big reveal.