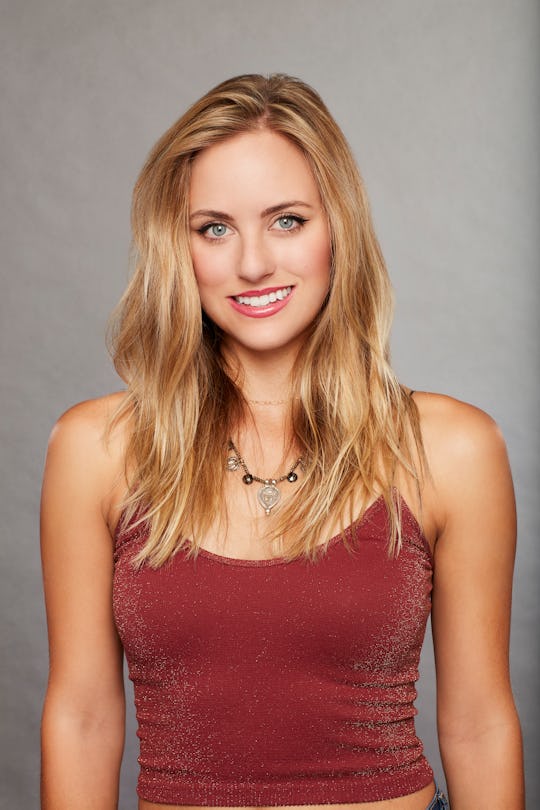 Craig Sjodin/ABC
Surprisingly, Kendall's Job Outside Of 'The Bachelor' Has Nothing To Do With Taxidermy
Sometimes, The Bachelor is so predictable I think it's scripted. Other times, it actually does surprise me. For example, I'm so glad that Kendall Long has made it to the hometown dates. But what does she do when she's not vying for love on a reality show? Where does Kendall from The Bachelor work? Despite her interest in taxidermy, she doesn't do it as her full-time job.
According to her ABC biography, Kendall is a creative director. Her LinkedIn page says she freelances for WhoHaha, a company that spotlights and supports women in comedy. Not only is that an awesome mission, but WhoHaha was co-founded by Elizabeth Banks, which ups its cool factor even more. Kendall lists her duties there as designing sets, purchasing props, and delegating tasks to the art department.
Kendall's been at WhoHaha since April of last year. Prior to that, she worked as a set dresser for shows like Keeping Up With The Kardashians, Ridiculousness, and Not Safe With Nikki Glaser. She graduated from the Academy of Art University in 2014 with a degree in Broadcast Television. While her ABC bio lists her hometown as Santa Clarita, she now lives in Los Angeles — and typical of many people who lives in Los Angeles, Kendall has an IMDB page. There, it also lists her as a set dresser for TLC's Sex Sent Me to the ER, which sounds interesting.
In addition to her full-time gig, Kendall plays the ukulele. She even has a YouTube page devoted to her songs. I remember her singing to a stuffed seal during her introduction package, so this makes sense. Speaking of, Kendall is most known on the show not for her career, but for her hobby: taxidermy. As Bachelor Nation is entering hometowns, I'm sure the show will once again focus more on that than on her actual career. Kendall loves her taxidermy collection, though, so I'm sure she won't mind.
Kendall happens to not be alone in her Los Angeles adventures; she has a twin sister, Kylie (yes, a Kendall and Kylie that aren't the Kardashians) who also has a creative job. Kendall described Kylie as her "adventure partner in crime" in an Instagram photo, so it's safe to say they are pretty close. According to her Facebook, Kylie works at Stoopid Buddy Stoodios, the company behind Adult Swim shows like Robot Chicken. I'm sure Bachelor Nation will be meeting Kylie, along with Kendall's parents, during hometowns.
This round of hometown dates is particularly interesting given that Arie already told Lauren B. that he loves her. Some viewers may be wondering why the show is bothering to keep going seeing as he already loves one contestant. Well, for one, The Bachelor would never end sooner than scheduled. Secondly, Arie says "I love you" to an additional contestant.
Could that contestant be Kendall? It's certainly possible. Last year I was surprised that Raven Gates made it to hometown dates — she didn't really seem like Nick's type — and then she lasted until the final two. Then, she went on Bachelor in Paradise and fell in love with Adam Gottschalk. So yeah, anything is possible in Bachelor Nation, which is both scary and exciting.
Arie seems to be into Kendall's taxidermy hobby, but that could change once he's in her element. Or he could just be even more into her and declare his love for her right there. Regardless, I'm excited to meet Kendall's family and see how it either helps or hinders her relationship with Arie moving forward.
Check out Romper's new video series, Romper's Doula Diaries:
Watch full episodes of Romper's Doula Diaries on Facebook Watch.