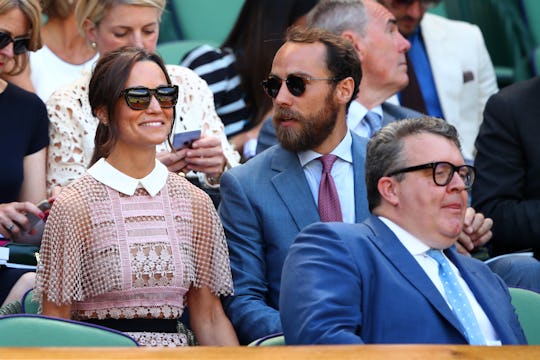 Clive Brunskill/Getty Images Sport/Getty Images
Here's Where Pippa Middleton & James Matthews *Could* Raise Their First Child
Get excited, because there are about to be some cousins in the Middleton family! Following the news that Kate Middleton's younger sister, Pippa, has officially confirmed her pregnancy, many might be curious if the sisters will be able to raise their kids close by. So, where does Pippa Middleton live? As it turns out, the expectant mother is not far from her family, as she and husband James Matthews share an exquisite London home.
Indeed, according to The Daily Mail, Middleton and Matthews, who got married on May 20, 2017, live in a luxurious London mansion "on one of London's most exclusive roads." And considering that Middleton's older sister, the Duchess of Cambridge lives in the same city, albeit in a literal palace, it's likely that they'll able to have many royal playdates together at some point in the future.
As you're probably already aware, Middleton's sister and her own family, Prince William, Prince George, Princess Charlotte, and Prince Louis all live in Kensington Palace, which is also in London. So now that the 34-year-old has confirmed that she's expecting her first child with Matthews, according to People, it's nice to know that if she needs any advice, her older sister is just a quick drive away. Or, ya know, the Duchess of Cambridge could take a nifty helicopter ride to see her younger sister.
Really, though, it's just nice to know that the younger Middleton sister has finally set the record straight about the rumors of her pregnancy that began to swirl back in April. So, after weeks and weeks of speculation about whether or not the writer and author was actually expecting, the mom-to-be has confirmed the exciting news in her column for "the U.K. supermarket monthly Waitrose Kitchen magazine," according to People.
In the column, not only did Middleton confirm her pregnancy, but she also revealed that she fortunately didn't struggle in the same way as her older sister did. According to Hello! magazine, Middleton wrote:
When I learned the happy news that I was pregnant I realised I needed to adjust my 4 to 5-day-a-week routine. I was lucky to pass the 12 week scan without suffering from morning sickness. That meant I was able to carry on as normal.
And while many women do suffer from morning sickness, Kate Middleton's condition was a lot more complicated than that.
In case you don't remember, all three times that the Duchess of Cambridge was pregnant, she reportedly had suffered from a severe kind of morning sickness known as Hyperemesis Gravidarum, according to ELLE. And even though the mom of three was able to make it through all three pregnancies to deliver happy and healthy babies, The Guardian reported that the condition is really awful to deal with for moms:
The truth of the matter is that hyperemisis is a horrendous, gruelling, protracted condition that leaves the people who suffer from it in a horrid state. It is not just for a few days either, most people experience it for 15 weeks during their pregnancy, others even longer.
Fortunately, the expectant mother hasn't struggled with the same condition.
Additionally, as Middleton is a pretty active woman, the expectant mom wrote about how she was a little nervous to exercise while she was pregnant. According to People, Middleton wrote in her column:
I've noticed my body change, but through exercise I feel it's being strengthened. I'm fanatical about sport and have looked at loads of books and websites on exercise during pregnancy, but have been disappointed by the limited technical information what you can and can't do.
Middleton continued that she was perplexed by how little information there was out there. "I wanted to know things like, would I strain if I served in tennis, are strokes of swimming safe, can I still do a normal yoga class if I avoided certain positions? Could I still work my abs?" she wrote, according to People. Fortunately, it seems like she's found a solution and is confident that after giving birth, her "favorite jeans will still fit eventually."
For now, though, Middleton's good news is cause for celebration. Prince George, Princess Charlotte, and Prince Louis would all certainly love a little niece or nephew to play with, and now they'll have one! And best of all? They'll be just down the road.