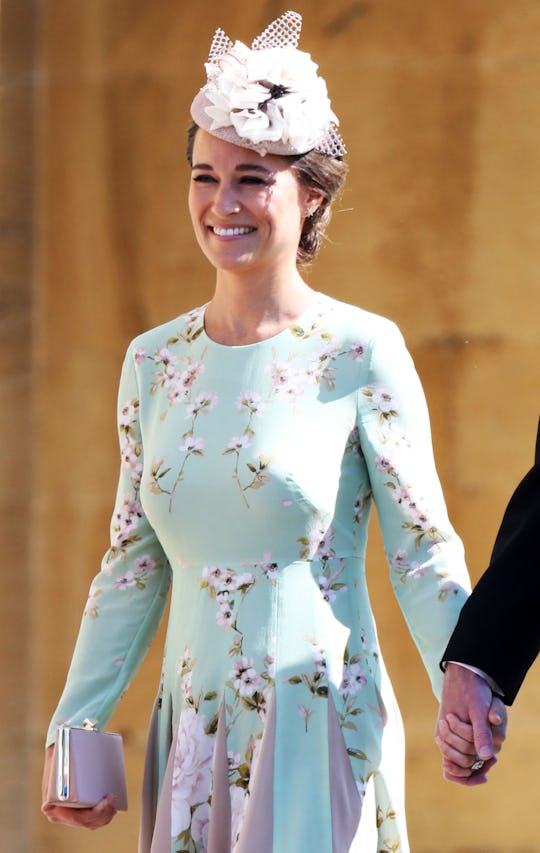 Chris Jackson/Getty Images Entertainment/Getty Images
Mom-To-Be Pippa Middleton Has An Impressive Résumé — Here's What She's Been Up To Recently
Soon after Kate Middleton welcomed the newest little royal into the world, her parents were greeted by more good news: her younger sister Pippa is officially expecting her first child. And while the Duchess of Cambridge's job is pretty much raising the future monarch and doing charitable work for the people of the United Kingdom, the younger Middleton doesn't have as many of the exciting accouterments of the royal life. So just where does Pippa Middleton work? And will she be keeping that job once her baby arrives?
Middleton has most recently been working as a writer for various publications and had a brief exploration into TV broadcast work with NBC, according to the Daily Mail. But the younger Middleton didn't set out to be a writer; the 34-year-old expectant mom graduated in 2008 with a degree in English literature, according to the London Evening Standard, and actually secured her first post-grad job at a PR film. But it seems as though the publishing world came knocking on her door not long after her public splash at the 2011 wedding of Prince William and her sister, Kate Middleton.
With people across the pond so enamored with her following the royal wedding, she was reportedly given a £400,000 advance (about $530,000) to write a party planning book, Celebrate, which was published in 2012, according to PopSugar. She then became a contributing writer for The Spectator, and a contributing editor at Vanity Fair, writing about topics such as Wimbledon, skiing, and croquet. She also wrote a column for the Daily Telegraph described as "unintentionally hilarious" by the Daily Beast, and she still writes a regular column for the magazine Waitrose Kitchen, according to Express. In fact, it was in the latter column that she confirmed her pregnancy, according to USA Today.
She later founded her own company to handle her publishing work, PXM Enterprises, as HuffPost reported, and it reportedly took in more than $350,000 in 2014, according to Express. However, after four years of operation, the business was shut down, in September 2017, which also happened to be three months after her wedding to her now husband, financier James Matthews, according to Closer Weekly.
Since then, it seems like Middleton has refocused her attention on charitable efforts, like raising money for the British Heart Foundation. On the organization's website, the British Heart Foundation announced her participation in a 3,000-mile cycling challenge across the United States. She followed that with a 6.5-kilometer charitable swim later in the year, and in 2016 she ran the Great Wall Marathon in China to raise funds for the foundation, according to the Daily Mail. She even turned her writing into a charitable effort, releasing a cookbook, Heartfelt. proceeds benefit the Heart Foundation in 2016, According to Town & Country, proceeds from the book's sales were donated to the Heart Foundation in 2016.
Though she's dabbled in many careers and it's clear she's kept busy over the years, Middleton has also had her time focused on her new marriage with Matthews. The pair married in May 2017 and he is an independent millionaire, as reported by The Telegraph, so it's probably safe to assume that their baby-to-be will want for nothing.
That also means that she can likely join her sister as much, or as little, as she chooses for playdates and charity work with the new little one in tow. And with writing being a somewhat portable career, it's likely that she can also move in and out of that as opportunities arise. The baby's due date is reportedly in October, according to The Sun, so there is still plenty of time for her to decide what her next path might be.