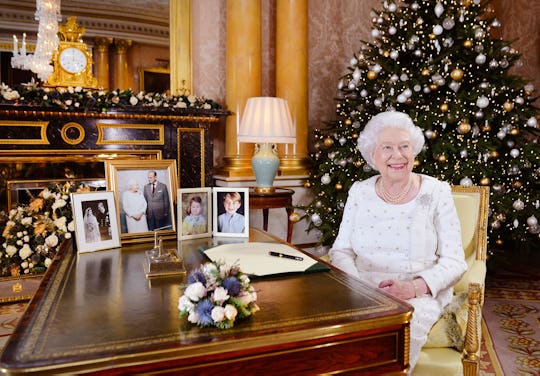 WPA Pool/Getty Images Entertainment/Getty Images
Here's Where Queen Elizabeth & Her Royal Brood Will Be For Christmas
Christmas is around the corner, for commoners and royals alike. Rumors about the Dukes and Duchesses of Cambridge and Sussex's Christmas plans has been gossiped more than enough (seriously, thank goodness that's over with...right?), so now it's time to move on to someone even more royal: The Queen. So where does Queen Elizabeth II spend Christmas and what does her holiday look like?
Unsurprisingly, the Queen's Christmas is full of traditions. According to the official royal website, the Queen has celebrated both Christmas and the New Year at Sandringham House, the Queen's private country retreat on the Sandringham Estate in Norfolk, since 1988. When Princess Elizabeth became Queen Elizabeth in 1952, her husband, Prince Philip, Duke of Edinburgh took over the management for the entire Sandringham Estate, according to the estate's website. Sandringham House has been the couple's private home away from Buckingham Palace ever since.
As the royal website adds, the Queen and other royal family members usually work together to put the finishing touches on the Christmas tree at Sandringham House. (Though I imagine a decorator does the first 99 percent of the Queen's tree-trimming.) On Christmas Eve, the entire family will place their gifts for each other on tables, and then at dinnertime, the gift exchange begins. And according to various reports over the years, the family's gift-giving traditions are pretty hilarious.
The royal family exchanges gag gifts on Christmas Eve every year, according to Business Insider. In a story for WalesOnline a few years ago, Brian Hoey, a royal biographer, shared a few gifts that royal family members have given each other.
For example, according to Hoey, Prince Harry, Duke of Sussex once gave his grandmother (yes, the Queen) a shower cap that read "Ain't Life A B*tch." The monarch reportedly loved it — but the jury's out on whether she actually wears it.
The bathroom is reportedly the royal family's favorite room of the house to buy gag gifts for. As Hoey noted, Anne, Princess Royal once bought Charles, Prince of Wales (her older brother and Harry and Will's dad) a white leather toilet seat. But the joke was on her, because Charles loved it. And one year, Diana, Princess of Wales reportedly gave Duchess Fergie a leopard-print bath mat, The Mirror added.
In addition to the reported gag gifts, the Queen is also known to give gifts to many of her staff members. As noted the royal website, the Queen gives Christmas puddings and a greeting card (from herself and Prince Philip) to about 1,500 staff members. Furthermore, select employees of The Royal Household at Buckingham Palace and at Windsor Castle get more personal gifts from the Queen, which she distributes by hand every year. How does she know what they will all like? As reported by The Mirror, she asks them to submit a request in March. That's some serious planning ahead.
And finally, the Queen makes sure to find time to give back every holiday season. She donates money to several local charities, and she also purchases Christmas trees for a slew of churches and schools in the Sandringham area, the royal website notes. And considering reports that Prince Harry, Meghan, Prince William, and Kate will all be at Sandringham Estate with the Queen this Christmas, it's sure to be a lovely holiday.
After experiencing a traumatic c-section, this mother sought out a doula to support her through her second child's delivery. Watch as that doula helps this mom reclaim the birth she felt robbed of with her first child, in Episode Three of Romper's Doula Diaries, Season Two, below. Visit Bustle Digital Group's YouTube page for more episodes, launching Mondays in December.