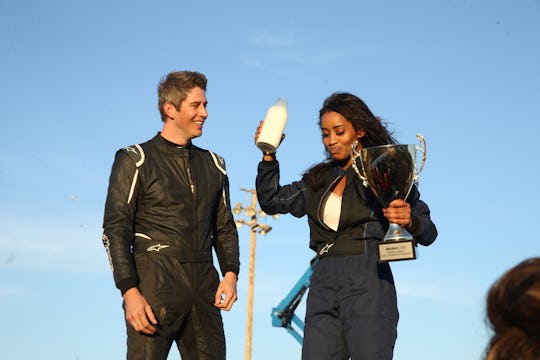 Paul Hebert/ABC
Seinne Could Totally End Up Winning 'The Bachelor' & Here's Why
On The Bachelor, there are always those contestants that lay low, but are actually sleepers. This season, I have a feeling Seinne is definitely one of those types of players, which makes me want to know more about her. For example, where does The Bachelor's Seinne work? She and Arie have a few things in common, including their profession: real estate (no, not race car driving — though that'd be pretty wild). Viewers haven't seen much of Seinne as of yet, though she did win the first group date challenge in the second episode, which coincidentally was car themed. To celebrate, she had to chug milk, which sounds disgusting, but she did so like a pro... so maybe she does have a future in race car driving.
For now, though, Seinne is a commercial real estate manager. According to Seinne's LinkedIn page, after she graduated college — excuse me, after she graduated Yale with a degree in economics — she worked as a Restaurant Operations and Service Manager at the Hillside Restaurant Group in East Hampton, New York and Scottsdale, Arizona. Yes, Seinne lived in Arie's hometown for a number of years. After a promotion to Senior Manager at the same company, Seinne took a pivot to real estate and became the Assistant Property Manager at Irvine Company. Seinne also made a move from Scottsdale to Orange County, California.
While she was at the Irvine Company, Seinne had an impressive amount of responsibilities, from helping manage a portfolio of retail properties to creating annual budgets. In November of last year, she moved to be an Associate at Latitude Management Real Estate Investors. According to its website, it's a national commercial real estate lender, so Seinne is kind of a big deal. Chris Harrison himself agrees with that, which in Bachelor Nation is the highest of praise. Seinne is one of Chris Harrison's top five contestants this Bachelor season, according to People.
"This girl is flat out impressive," Harrison told People. "She's incredibly intelligent and she definitely has this zest for life that Arie is in awe of. He's a little bit mesmerized by her." As of yet, Seinne and Arie haven't had a ton of time spent together, but from what viewers have seen that statement is 100 percent correct. When they did get a chance to talk after the race car group date, Arie was interested not only that Seinne went to Yale and works in real estate, but that she lived in Scottsdale for a while, too.
Arie's pretty attached to Scottsdale (if having a first date with Krystal there didn't make that clear), but he's not totally against the idea of moving. In an interview with AZ Central, Arie said that's a perk of his real estate career: "I think the great thing about real estate is that you can do it anywhere," he said. "I'm open to as far as moving to another place and ... pursuing that same career." Perhaps Seinne feels the same way, given she has a similar career path and also made some moves in her life.
As of now, it seems that Arie and Seinne are pretty compatible. Arie's a pretty bad actor (as evidenced by Arie's ill-fated one-on-one date with Lauren S.), so the fact that he seems enamored by Seinne means that he actually is. Again, she's not as big of a "presence" on the show as Krystal or Chelsea (from what I've seen so far, anyway), but I think that can work in her favor in the end. If she doesn't get that Neil Lane ring, I think she's a great choice for Bachelorette (and if not that, Bachelor in Paradise... she'd outsmart everyone). For now, though, viewers will have to see what awaits her this season.
Check out Romper's new video series, Romper's Doula Diaries:
Watch full episodes of Romper's Doula Diaries on Facebook Watch.