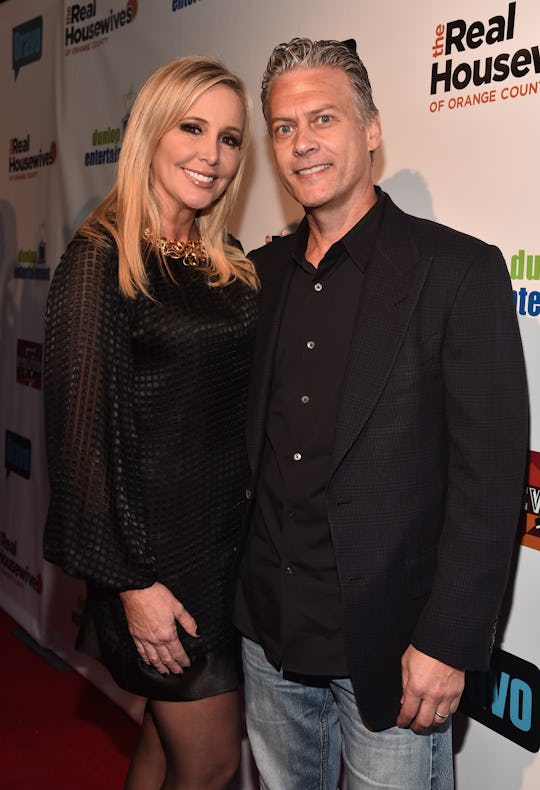 Alberto E. Rodriguez/Getty Images Entertainment/Getty Images
Shannon Beader's Ex Is Definitely Out Of The Picture On 'RHOC'
Shannon Beador's divorce from David Beador hasn't gone smoothly for the former Real Housewives of Orange County couple. After a 17-year marriage, they finally called it quits and viewers have seen just how messy things have gotten between them following the finalization of their split. But where does Shannon Beador's ex-husband David live now?
Shannon has been one of the main cast members on RHOC since Season 9 and now she's charting new territory as a single mom. As fans have seen on RHOC, David has officially moved out, but it's unclear where he now lives. My best guess would be with his girlfriend, Lesley Cook, in Newport Beach. Although both of their respective Instagram accounts are now deactivated, Radar Online reported that the couple had been out together in Newport Beach with the three daughters he shares with Shannon.
"David and Shannon's daughters are absolute sweethearts, and my daughter adores them," Lesley told Radar Online at the time. So while it's not confirmed that David is living with Lesley, it seems all but certain right now. At the very least, RHOC fans know that he won't soon be moving back into the home he once shared with Shannon.
In a recent episode of RHOC, Shannon revealed that David had taken his name off their home's utilities, which caused the water to be turned off. This was after their court hearing ruled that he had to pay more than $22,000 in monthly support. It was a shock to Shannon, who then had to adjust to taking care of those seemingly trivial things herself. I doubt that David would take those steps if he had any plans to move back in, so regardless of whether he's living with his girlfriend or not, he's definitely out of the house.
Shannon did tell The Daily Dish in July that she and David are trying to be civil for the sake of their daughters, who they now shared custody of. "My relationship with David today is no bueno. It is not good. Hopefully when we settle everything there will be more of a friendliness," she said. "But my kids are doing well, as well as can be expected. We're trying to co-parent. They're spending a lot of time with their dad. We're trying to do it 50/50, and I want him to be a part of their lives."
Fans watched the downfall of Shannon's marriage toward the end of Season 12, so it was expected that Season 13 would pick up for her where things had left off. During a November 2017 Bravo special, Shannon revealed the reason behind the divorce. She told Andy Cohen that they'd gone on a Hawaii vacation together in the hopes of reconciling their relationship, but David went home early on his own. "When I came home, he said, 'We're done,'" she revealed. "I said to David, when he told me it was over, 'What happened? We had a couple of amazing years.' And he goes, 'We had a couple good months.' It was just a knife in the heart."
According to Shannon, their split began with David living in a separate wing of the house, but now he's moved out completely. While it's obviously been a difficult time for everyone involved, hopefully things are looking up for the future.