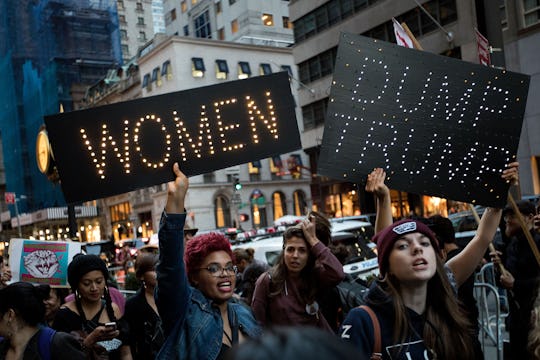 Drew Angerer/Getty Images News/Getty Images
Here's Where The Women's March Will Start
T-minus nine days and counting until President-elect Donald J. Trump becomes the 45th President of the United States. This is it. It's go time. As the astonishing victor of one of the most contentious, divisive elections in our lifetime — and the second election where the winner of the popular vote lost the Electoral College — it's no wonder that protests against Trump's win began on Election Night and have continued since then. One of the largest is planned for the day after his inauguration: The Women's March on Washington. With more than 200,000 people anticipated to attend, make your travel plans ASAP if you plan on attending this historic march. First logistic to work out: Where does the Women's March start?
According to the official Women's March on Washington website, the march is scheduled to begin at 10:00 a.m. Eastern Time on Saturday, Jan. 21. Attendees are asked to gather at the intersection of Independence Avenue and Third Street Southwest. Specifically, the Women's March starting location is just around the corner from the National Museum of the American Indian. If you're getting there via the Washington Metropolitan Area Transit Authority (WMATA) subway, your closest metro stop is Federal Center SW, on the Blue, Orange, and Silver lines. Organizers of the march are encouraging attendees to buy their Metro cards online now.
The march route itself has not yet been publicized for security reasons, as stated in a Women's March press release issued Dec. 9:
The planning process will be ongoing until days before the march ... to ensure a safe march with all logistics in place to accommodate the number of people we anticipate convening. For security reasons, we will not release any further details about march logistics until a later date.
Rest assured, safety is a priority for Women's March organizers, who are working with a number of local, federal, and private agencies to ensure the event goes smoothly and safely. These agencies include the National Parks Service, U.S. Capitol Police, the Metropolitan Police Department, and U.S. Department of Homeland Security.
If you haven't yet figured out your travel plans to get to the Women's March, now's the time to do it. There are hundreds of buses that will be transporting attendees to D.C. If you plan on driving, plan accordingly: D.C. traffic on inauguration weekend is expected to be a doozy with numerous road closures. Public transportation is going to be your best bet, but just remember that it's going to super crowded, as the Women's March isn't the only march or protest happening on Jan. 21.
If you can't make it to Washington D.C., there are hundreds of Women's March Sister Marches happening all over the country on that Saturday, too.