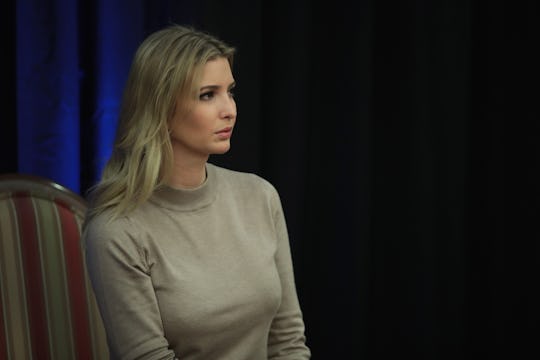 Scott Olson/Getty Images News/Getty Images
Where In DC Will Ivanka Trump Live? The Incoming First Daughter Is Reportedly Moving
Ivanka Trump was arguably her father's most effective and well-liked surrogate throughout his fraught presidential bid, and her husband, Jared Kushner, is poised to slide into the White House as one of President-elect Donald Trump's top advisers. So it's no surprise that the couple is reportedly looking to relocate their young family to Washington, D.C., in order to maintain their respective, ever-evolving roles among the political class. Experts predict the incoming first daughter will take on a first lady-esque position, so the question of where Ivanka Trump will live in D.C. as she performs these duties is an essential one. And it's all the more relevant as she continues to act as a liberal ambassador for Donald Trump and grow her own lucrative personal brand and business endeavors.
CNN reported Monday that Trump and Kushner, both 35, would move from Manhattan to the capitol along with their three kids, ostensibly for at least the duration of Donald Trump's term or terms in office. The apparent and logical decision, which the family has not yet confirmed, solidified the assumption that both will be prominent power players in the orbit of a President Trump, although nepotism laws could bar them from formal roles in the White House. But it would hardly be surprising for Donald Trump to include his family members more than conventions of ethics (and the law) would dictate is permissible, because already during his transition he's made questionable choices and statements regarding them.
Amid public outcry that Donald Trump's sprawling international business interests could present unprecedented conflicts of interest, Trump floated the idea of creating a "blind trust" that would put three of his adult children at the helm (this is not a blind trust). He has since announced that he will host a press conference Dec. 15, with his children, to discuss getting himself "completely out of business operations."
But Ivanka, who, along with her brothers Donald Jr. and Eric, holds an executive vice presidential role at The Trump Organization, has already raised eyebrows herself for inappropriately merging her own business and her father's politics. Reports emerged this week that, at the time she attended a meeting with the new president-elect and Shinzo Abe, the prime minister of Japan, she was also in the process of negotiating a licensing deal with a Japanese retail company. It was yet another unsettling harbinger of how the family's political and business aspirations and responsibilities could clash.
Still, Trump and Kushner are evidently undeterred, with Trump already planning to adopt climate change as one of the many liberal causes she has championed and will champion, Politico reported. Remember, Donald Trump once notably slammed the idea of global warming as a "hoax" propagated by the Chinese to claim manufacturing jobs from the United States. In his first major policy speech as a candidate, he threatened to "cancel" the country's participation in an international climate deal that exists to combat the dire environmental effects of this phenomenon.
And as both Trump and Kushner were born into incredible wealth (Vox described Kushner as "a rich kid with a chip on his shoulder ... a hyperprivileged member of the New York overclass") there's no doubt that they'll have the choice to live anywhere in the city they want. There's a good chance they'll opt to move into one of the most expensive neighborhoods in Washington: Perhaps Great Falls, where they can get more than 10,000 square feet and a huge property, according to The Washingtonian; or maybe McLean, a suburb the publication described as "one of Washington's power centers." For "great schools" for their three children, they may choose one of the Chevy Chases, either in D.C. or Maryland, where they'll also be close to downtown.
Wherever the family lands, what's 100 percent certain is they'll be fixtures in your newsfeeds for a long time to come.