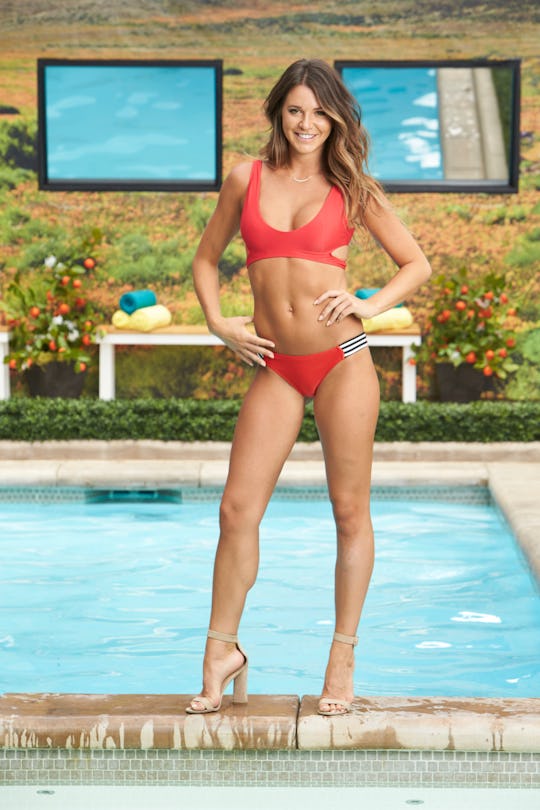 Sonja Flemmings/CBS
This Small Town Southern Girl Is Killing It On 'Big Brother'
Season 20 of Big Brother has landed, and it looks like it will be bringing lots of drama and excitement to your summer. The house is full of intriguing personalities, including Angela Rummans. The fitness model seems to have the game in her pocket already, and fans are anxious to see what more she will bring to the house. To gauge how she'll fare in the competition, understandably, you'll want to know everything about her and her background. So where is Angela Rummans from Big Brother? It looks like she has ties to the low country.
As described in her CBS cast bio, Angela lives in Playa Vista, California where she works as a fitness model, but her roots are actually in the South. She is originally from an island town off the coast of South Carolina called Hilton Head. In an interview with WTOC 11, Angela described herself as a "small town girl" and what it was like growing up on the "teeny, tiny" island. "Everybody knows your business before you do, but it's cute," she said. "It's nice to walk into a restaurant and know everyone in there, and to know the owner, and to know the chef."
Angela left Hilton Head to find success in Los Angeles, but she in her interview, she admitted she's still a Southerner at heart. "I grew up very sheltered, so being in L.A. and living in L.A. is such a culture shock for me," she said. "But I'm still that down home southern girl." But despite living the hectic Los Angeles lifestyle, Angela may still need to adjust to living in a house full of people. "I have a 1700 square-foot apartment that I live in by myself, and I haven't had a roommate in five years," she admitted. "So being in a house with 15 roommates is going to be crazy and it's going to be a huge adjustment for me."
But just because Angela is a small town girl, it doesn't mean she's not a fierce competitor. In fact, according to Gamecocks Online, Angela pole vaulted competitively for her high school, and in her CBS bio she said that people often dismiss her as a pretty face, without realizing all her athletic feats. "I think commonly I get underestimated because, on the outside, I come across as just a sweet Southern belle and brainless model that probably isn't capable of much. But what you don't see is that I was a professional track-and-field athlete, trained at the Olympic training center with the Olympic team, and am the most headstrong, iron-willed competitor."
Being a competitive athlete may give Angela an edge when it comes to winning the Big Brother $500,000 grand prize, but she also has a pretty good strategy too. When asked about how she plans on winning, Angela mentioned that she was going to keep things low-key until she needs to step up. "I'm very lovable and not afraid to use my sexuality to get ahead. These are all things that I will keep to myself but eventually, during physical/athletic challenges, it may be obvious that there is more than meets the eye."
Angela already seems to be a fan favorite, and considering her drive, strategy, and strength, I can totally see her staying in the house until the very end. Of course, living in isolation from the world can drive anyone nuts, so there's no way of really knowing how someone would fare under that pressure and those conditions. However, Angela looks like a player who's level headed and in it to win, so there's a real chance she'll get far in the competition.
If you want to see more of Angela you can watch all-new episodes of Big Brother Season 20 on Sundays at 8 p.m. Eastern time and Wednesdays and Thursdays at 9 p.m. Eastern time on CBS. You can also check in on your favorite cast-mates in the house through the live feeds on CBS All Access.