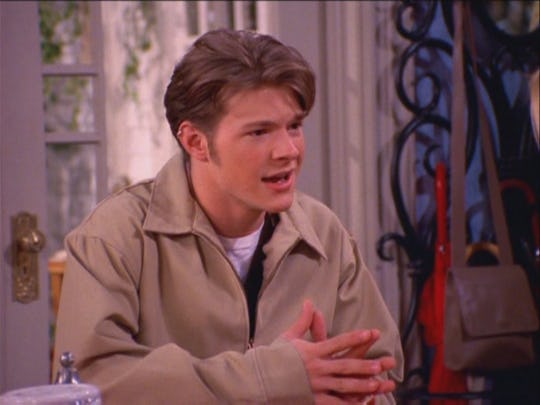 ABC
Where Is Harvey From 'Sabrina, The Teenage Witch' Now? Nate Richert Is Still Entertaining
Remember those Tiger Beat and J-14 poster inserts we all devoured as teenagers and pre-teens, hanging up folded posters with visible creases that we didn't care about because our favorite TGIF hunks were plastered on them? Because in addition to JTT (that's Jonathan Taylor Thomas, for the blasphemous who don't know) and Leonardo DiCaprio, I also loved Sabrina Spellman's high school boyfriend and all-time soulmate, Harvey. But what happened to Harvey Kinkle from Sabrina, The Teenage Witch? In our fantasies, he's still riding off with a runaway bride Sabrina on the back of his motorcycle, being all in love and magical and whatnot. But in reality, Harvey Kinkle, a.k.a. Nate Richert, has done a lot of growing up.
In the years following Sabrina, Richert did a little bit of acting, but didn't land anything major, and that's probably totally fine with the guy, because it left him free to focus on his music career. What's that — you didn't know that Harvey from Sabrina embarked on a music career after his acting days were over? Well, he did, and he even has a YouTube channel devoted to his music and comedy sketches. Granted, there aren't many posts as of late, but the effort is still there.
Shortly after Sabrina ended in 2003, Richert went on to star in the sci-fi/fantasy movie Game Box 1.0 alongside fellow '90s obsession Danielle Fishel (Boy Meets World) and The Sure Hand of God, and then the short, H-e-n-r-y. But obviously his love of music is where it's at for Richert these days, and I'm not complaining. His twangy sound, mixed with his unique vocals make for some pretty good music that doesn't try too hard to be anything specific other than its own sound.
Aside from gaining some years (can we all take a moment to acknowledge that the show ended 13 years ago — shudders), Nate Richert still seems to be the goofy and lovable guy we feel in love with as the goofy and lovable jock who was terrible at football on Sabrina.
While Harvey's thick and flowing locks are no more, Richert seems to have a good sense of humor about that too. When someone tweeted at him, asking where his hair went, Richert's reply was, "Down many drains". Years have passed, but his humor has gone nowhere.
Harvey Kinkle is long gone, having rode off into the sunset on the Sabrina series finale with said witch holding onto him and fangirls everywhere swooning at the love story that took too long to come full circle, but Nate Richert is alive and well and making music. You can listen to his tracks on his website here or check out his singles and videos on ReverbNation. I get it, Sabrina, The Teenage Witch is over and has been for 13 years, but that doesn't mean we still can't enjoy us some Harvey Kinkle.