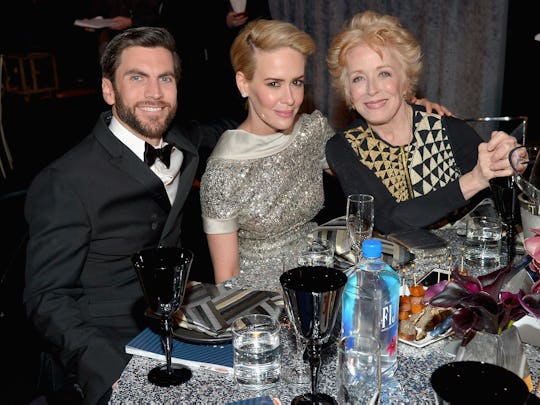 Charley Gallay/Getty Images Entertainment/Getty Images
Did Holland Tyler Make It To The Golden Globes?
Holland Taylor and Sarah Paulson are one of the sweetest celebrity couples in Hollywood. The two award-winning actresses have been dating since 2015 and are adorably affectionate with and supportive of one another on social media. Paulson has been picking up piles of awards for her performance as Marcia Clark in The People v. OJ Simpson, frequently thanking both her partner and the real-life Clark in her acceptance speeches. Sure enough, Paulson won yet again at tonight's awards ceremony, but where is Holland Taylor at the 2017 Golden Globes?
Like many Hollywood couples, Taylor and Paulson are bi-coastal, splitting their time between Los Angeles and New York. But Taylor, a noted stage actress, seems to have made the East Coast her base for the better part of the last year. The 73-year-old prolific actress currently stars in The Front Page alongside Nathan Lane, John Slattery, and John Goodman. The play's revival has been running since October and is set to conclude in late January, so it makes sense that Taylor might not be able to make it out to Beverly Hills, where the 2017 Golden Globes ceremony took place.
The pair has plenty of fans on Twitter, so naturally one of them tweeted at Taylor to ask why she wasn't at the ceremony with her partner. Taylor explained her absence from the Golden Globes, saying that the Sunday matinee performance of her play had just wrapped, leaving her unable to make it out to the West Coast in time for the Globes. Taylor joked that she was "trapped" in New York.
Though Taylor and Paulson regrettably don't appear together on many red carpets because of their busy schedules on opposite sides of the country, Taylor always takes care to live-tweet any awards ceremony that her girlfriend is appearing at. Just as she did during the 2016 Emmys, Taylor tweeted and retweeted plenty of loving admiration for the uber-talented American Horror Story actress during the red carpet and ceremony. Taylor had plenty to tweet about, because Paulson looked fab, as per usual.
Taylor's social media fawning over Paulson will never stop being the best. Here's hoping Paulson continues to rack up awards year after year, so we can keep being treated to their online adorableness.