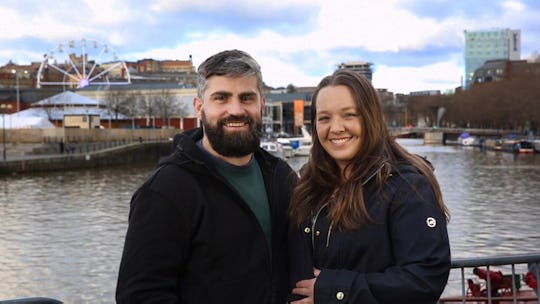 TLC
Where Jon Is From On '90 Day Fiance' Shouldn't Come As A Surprise
90 Day Fiancé: Before the 90 Days is all about Americans finding love with people abroad, and Jon and Rachel are no exception. Rachel is American, so where is Jon from 90 Day Fiancé from? The two met on a karaoke app (it's a thing!) but live an ocean apart.
According to TLC's Before the 90 Days Season 2 announcement, Jon is from England. While they met, Rachel found out that she was pregnant with another man's baby, but Jon was OK with it. After talking online for two years, Rachel made the decision to go to England and finally meet Jon in person. On the bio for their joint Instagram account, @followourfairytale, Jon and Rachel say their first kiss was at 51°31'00.6"N 0°10'40.2"W, the coordinates for Paddington station in London.
Jon and Rachel's relationship has more drama than most long-distance relationships fans see in their own lives. The fact that they live in different countries is just the beginning. They met on the karaoke app Smule and while singing duets, they fell in love. "One day, out of the blue, a man joined in a duet of mine and my jaw hit the floor," Rachel said about Jon in a clip from Season 2. "I couldn't keep my eyes off of it. He was just handsome. I was blown away."
When Rachel meets Jon in England, she wants to ask him about his "questionable past." Apparently, Jon had tried to visit the United States to meet Rachel and her eight-month-old daughter, Lucy, but was denied a visa because of his criminal record.
Not only does Jon have some explaining to do, but sleuthy fans have dug up more information outside of the show. Redditer JonInCa has discovered a marriage certificate (dated June 5 in New Mexico), leading some fans to believe not only are Jon and Rachel still together, but they've secretly gotten married. Tabloid site Starcasm apparently unearthed another marriage certificate for Jon and Rachel, this one from Cornwall, England and dated in May. Perhaps the two got married in England, and that was enough to get Jon to the United States to get married there. There's also a possibility, as some Redditors point out, that they haven't gone back to the United States at all, and the New Mexico certificate was to validate their marriage in Rachel's country.
Another small piece of evidence that Jon and Rachel are now married is from Instagram. In January, Jon posted a photo with a long beard with the caption, "Refusing to shave until we're married." In July, on his individual Instagram, Jon shared a photo freshly shaved. Curiouser and curiouser...
Of course, at this time this is all online sleuthing and nothing more, but I'm sure if the two got married TLC wouldn't let the viewers down by not showing it. While nothing has been #confirmed, from the looks of their joint Instagram account and their individual accounts they are both still very much in love.
Rachel and Jon both post about each other frequently on their own accounts, and their joint account is active as well. This says a lot, especially when compared to other couples on the show who are pretty quiet on social media. Jon and Rachel are definitely not leaving much for fans to wonder about in terms of whether they are still together. What I am interested in learning though (and hopefully the show will divulge) is why Jon couldn't get a visa to America, and if he will be able to now if he and Rachel really are married. If not, then perhaps Rachel moves to Jon's hometown in the UK.