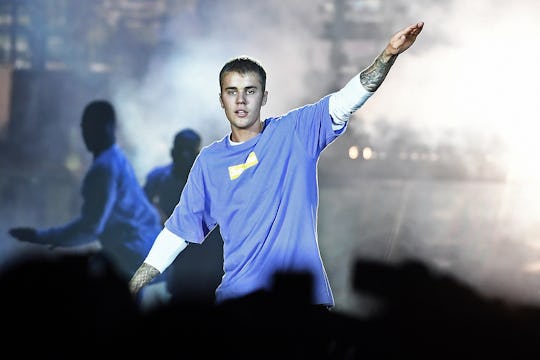 CHRISTOPHE ARCHAMBAULT/AFP/Getty Images
Where Is Justin Bieber During The AMAs? The Performer Isn't Actually There
Where's the Biebs? That was the question on many Beliebers' minds as they tuned in to the 44th annual American Music Awards on Sunday night. Despite the fact that the Canadian-born singer was nominated for five awards and set to perform, he was noticeably absent during the show. This lead many to wonder, where is Justin Bieber during the AMAs?
Deep breath Beliebers — Justin is doing just fine. (Well, as fine as he really can be, you know?) As any true fan knows — and as E! online confirmed — Bieber is currently in Zurich, Switzerland as part of his Purpose tour. But not one to disappoint fans, the 22-year-old singer agreed to perform via satellite from Europe.
Bieber joins a long list of stellar performers for the 2016 AMAs. Bruno Mars opened up the show with a performance of his latest hit, "24K Magic." He was followed by fan favorites like Fifth Harmony, Lady Gaga, John Legend, Green Day, and more. Bieber's performance will close out the AMAs, according to Billboard, so you know — or, at least hope — that it will be a mind-blowing display.
And since this isn't the singers first time taking the stage at the AMAs, the odds of a good performance are in his favor. After all, as mentioned on Billboard, Bieber has performed five times prior to Sunday night. Of course, he was actually at the award show those times. But hey, maybe Switzerland will inspire him to be even better than ever. In fact, Beiber hinted on Twitter that he would bring aspects of his Purpose tour to the AMA performance.
Though there wouldn't be any camera pans over Bieber jamming in the crowd, fans still wanted to tun in to see him perform from overseas.
Well, that wasn't the only reason. At least not for the diehard fans. Those who live and breathe for Biebs wanted to see if the singer would take home any hardware — figuratively speaking of course. Because, hi, he's not actually at the Microsoft Theater. According to the official American Music Awards site, Bieber is nominated for five awards including: Artist of the Year, Video of the Year, Favorite Male Artists — Pop/Rock, Favorite Album - Pop/Rock, and Favorite Song - Pop/Rock. And since the AMA winners are determined by fan votes, Beliebers were campaigning hard for Bieber to take home all the awards.
Here's hoping fans get what they want from Bieber on Sunday night.