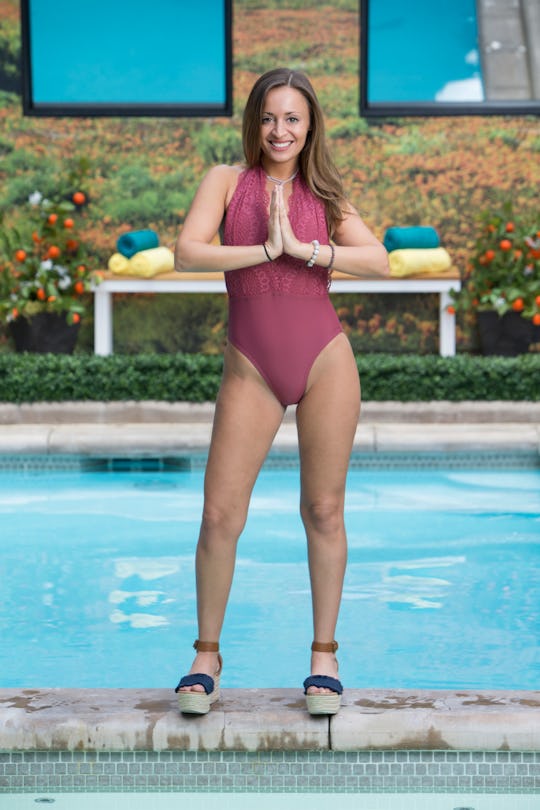 Sonja Flemming/CBS
'Big Brother' Star Kaitlyn Herman's Home Town May Surprise You
The cast of Big Brother 20 is an interesting mix and that includes Kaitlyn Herman, a life coach who believes in the power of sage. With Kaitlyn's interesting ideas and game play, it's not surprising that viewers have a few questions about her. For instance, where is Kaitlyn on Big Brother from?
According to her cast bio, Kaitlyn is originally from Plainview, NY, which is part of Long Island, but she currently lives in Encino, CA, which is in Los Angeles. So, Kaitlyn didn't have to go too far when she moved into the Big Brother house, though since she can't have any contact with the outside world I'm sure it feels like she's a million miles away from her loved ones.
Kaitlyn has had an interesting past week in the Big Brother house. First, she flipped her vote to send Steve home instead of Sam, going against her alliance. Then, after becoming head-of-household, she nominated Winston and Scottie for eviction, though she's made it clear she actually plans on back dooring Swaggy C, betraying her alliance even more. Kaitlyn's decision to target Swaggy C mainly came from the fact that she heard he was talking about her. In particular, he spoke about her to Tyler who then told Kaitlyn.
In addition, Kaitlyn had become upset with Faysal and Haleigh because Kaitlyn was very close to Faysal, but Faysal and Haleigh appeared to be getting into a showmance. This is the main reason why Swaggy C was even talking about Kaitlyn in the first place. He felt concerned Kaitlyn's alleged jealousy would ruin their alliance. Little did he know it was actually his commentary on the situation that led Kaitlyn to flip.
Regardless of Kaitlyn's reasoning, it definitely seems like she has the power to send Swaggy C home. The only way he can remain safe is if he himself wins the power of veto, because for now Kaitlyn's former alliance believes Kaitlyn's plan is to send Winston home so they may decide to pull Scottie off just to keep him safe, thinking Kaitlyn will nominate someone else from Winston's side of the house. However, if they do that Swaggy C will be going up. The only other alternative is that nominations stay the same, but that would mean Scottie would be evicted.
Still, no matter who's evicted there's still a chance they could be saved. Sam has a power app that will allow the person of her choosing to be given the chance to come back from eviction for the next two live evictions. However, if it is Swaggy C that ends up being evicted it's very unlikely Sam will use her power on him. It was Kaitlyn who's vote prevented Sam from being evicted so Sam would be bold to then turn around and save the one person Kaitlyn really wants to send home and also making Kaitlyn's HOH pointless if Swaggy C actually returns to the house.
On the other hand, if it's Scottie that's sitting on the eviction block Thursday night and he gets sent home, Sam may be willing to use her power app on him. Because Scottie's one ally in the house, Steve, was sent home, Scottie has become pretty good friends with Sam, who also doesn't really have a solid group in the house. Sam may want to save Scottie since he's become a bit of an ally to her and she doesn't really have anyone else, except Tyler, who's basically befriended the whole house.
Still, it's much more likely that Swaggy C will end up on the block and be sent out the door. Hopefully, he's already started saying his farewells.