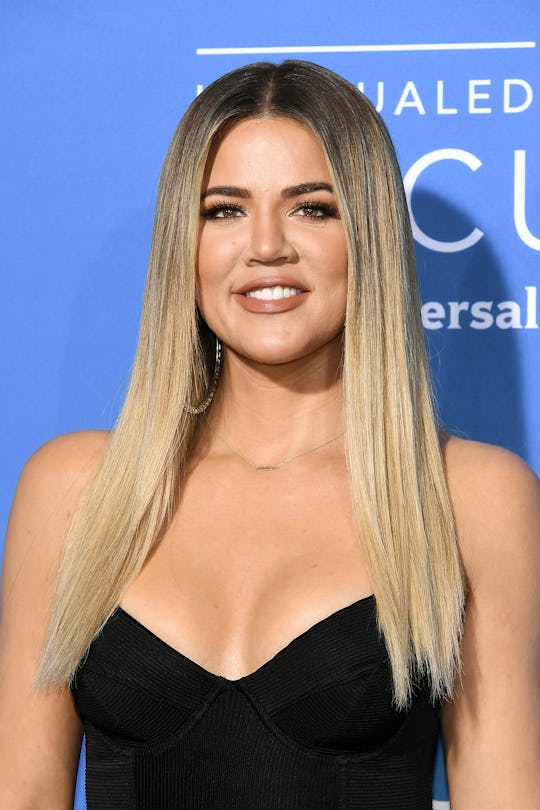 Dia Dipasupil/Getty Images Entertainment/Getty Images
Where Is Khloe Kardashian Celebrating Mother's Day? She Has Loads Of Options
I love Mother's Day on account of I'm a mom and it's really just great to have a day dedicated to talking about how great I am. Also this year my sons are making me homemade pizza for supper, and while I'm a little worried about what the kitchen will look like after they've finished, still. It's just kind of nice to have people who think I've been a nice enough mom to them to earn me a pizza. My Mother's Day is pretty simple compared to that of a celebrity. And I'm especially curious about how Khloé Kardashian will be celebrating Mother's Day. Because this is her first one, and that's always extra exciting.
The Revenge Body host gave birth to her first daughter with NBA player boyfriend Tristan Thompson on April 12. Little True Thompson has now been on the planet for a full month, and she and her mother are currently living in Cleveland with Thompson. It's pretty far from her sisters and her own mother, who all live in Los Angeles, California, and since the Kardashian/Jenner family is well known for being very close to each other, does it stand to reason that she and the baby might fly south for Mother's Day?
As it stands right now, the new mom is just really excited to celebrate her first Mother's Day. KoKo took to her app on Wednesday to share her plans for the big day, and it boils down to this; all baby True, all the time:
I've always loved Mother's Day and celebrating Kris Jenner, MJ and my sisters — but this year will be even more special because now I'm a mommy, too! As of now, there aren't any special plans (that I know of, LOL). I'm really enjoying spending quality time with True and loving just hibernating with her.
And now that she's finally shared a picture of her adorable baby girl, who could blame her for wanting to get in as much one-on-one time as possible? Those cheeks and freckles... I mean, come on.
While Khloé didn't confirm whether or not she will be staying in Cleveland, an unconfirmed source told People that she could be spending the day alone since Thompson will be in Boston for a basketball game. Although that might change, since it's tough to get a sense of what the Good American designer is really planning to do from an unconfirmed source. She could potentially travel to Boston with Thompson since the couple appear to be working on their relationship after the birth of their daughter, if their date nights are any indication. Things looked pretty patchy for the couple when several media outlets shared reports that Thompson was allegedly cheating on Khloé during her pregnancy.
She could also be heading to Los Angeles to celebrate with her sisters, her mom, and her grandmother. After all, two of her sisters just welcomed babies of their own; Kylie Jenner gave birth to daughter Stormi Webster on Feb. 1 and Kim Kardashian-West welcomed her third child, daughter Chicago West, via surrogate on Jan. 15. Kris Jenner told People that the plans were still "up in the air" but the family would definitely be spending time together:
We'll probably do a wonderful dinner with everybody. We're trying to figure it out because in my family, everybody wants to do it. Kylie's like, 'I'll do it!' and Kourtney is like, 'I'll do it!' It's a good problem to have.
There have been some media reports that suggest there's been a bit of a rift between Khloé and the rest of the family because of Thompson's alleged cheating. But I'm not buying it. If I were a betting gal, I would say that she'll end up spending the day with the women in her life, celebrating the new little girls in their lives. Because that's what Mother's Day is all about, right?