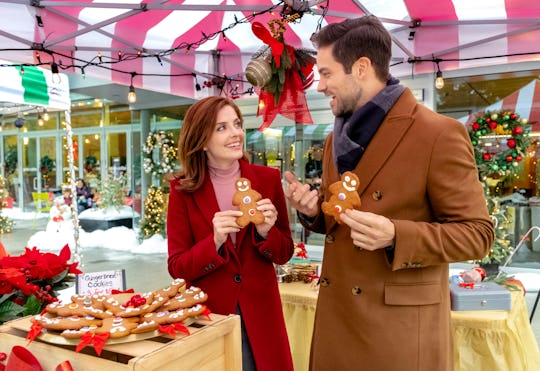 Courtesy of Hallmark
Hallmark's 'Mingle All The Way' Will Make You Want A Christmastime Bae
Hallmark's Countdown To Christmas is well underway, with several new movies blowing up the small screen every week. And finally, the hyped Mingle All the Way is set to premiere this Saturday, Dec. 1. And when you watch the movie on the Hallmark Channel this weekend, you may find yourself wondering — where is Mingle All the Way set?
Mingle All the Way takes place in the Pacific Northwest, a rep for the movie tells Romper. However, the movie was shot in Vancouver, Canada. Mingle All the Way tells the story of a young businesswoman named Molly Hoffman, who has just launched an app called Mingle All the Way. The app aims to pair up busy single professionals with platonic dates for the holiday season.
To avoid her mom Veronica's insistence that she give up on the app and rejoin the family's accounting practice, Molly signs up for the app herself. She is paired up with Jeff Scanlon, an advertising executive seeking a promotion and relocation to the Los Angeles office. He's looking to impress his boss by bringing a nice girlfriend to holiday events at work, and as it turns out, he and Molly have actually already met in passing — and they did not hit it off.
As you can probably guess, Molly and Jeff's platonic partnership leads to a few sparks flying. (It is a Hallmark romance movie, after all.) But things aren't going to be so easy for them, as a dose of drama is expected in the final act of the film.
Jen Lilley, who plays Molly, and Brant Daugherty, who plays Jeff, are both so excited to be part of Mingle All the Way. "No one does romance like Hallmark Channel," Lilley said in a video interview with Hallmark. "This one is really exciting to me because it's a modern love story."
"We start out a bit in conflict," Daugherty added. "I think it's a really fun journey that we take, to watch us bicker back and forth, and I think it ends up in a very fun place."
Many viewers will be excited to find out who plays Molly's mother, Veronica — Emmy Award winner Lindsay Wagner, best known for playing Jaime Sommers in The Bionic Woman and The Six Million Dollar Man.
If you love Hallmark movies for the cheesy predictability, Lilley wants you to know that Mingle All the Way will mess with that formula a bit. "One thing I loved about the script is that it's a little outside the normal formula, and that's OK. It's still got that Meg Ryan, Tom Hanks charm that I look for in all rom-coms," she told ET Online in an interview. That said, she thinks all rom-com fans will love the movie. "No matter what political side you're on... you know when you turn on Hallmark Channel it's just going to be feel good and so many of us need that," she added.
Mingle All the Way premieres on the Hallmark Channel on Saturday, Dec. 1 at 8 p.m. ET. Happy mingling!
This first-time mom wants to have a home birth, but is she ready? Watch how a doula supports a military mom who's determined to have a home birth in Episode One of Romper's Doula Diaries, Season Two, below. Visit Bustle Digital Group's YouTube page for the next three episodes, launching every Monday starting November 26.