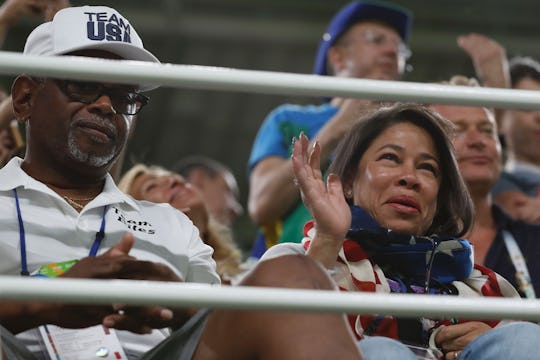 THOMAS COEX/AFP/Getty Images
Where Is Nellie Biles From? Simone Biles' Mom Is Her Biggest Cheerleader
Olympic gymnast Simone Biles, the 2016 women's individual and all-around champion, took home five gold medals in Rio. Speaking of home, throughout the coverage of this summer's games, we've come to know and love Biles's family, maybe most of all her mom. We know Simone Biles and her family live in Texas now, but where is Nellie Biles from?
According to Biles's Facebook profile, she's originally from Belize. Belize is a Caribbean nation bordered to the north by Mexico with a diverse and rich cultural history that includes influences from both Latin America and other regions that border the Caribbean sea. Belize, like many other nations in Central America, is a Commonwealth realm, meaning it is under the British Monarchy, with Queen Elizabeth II as its head of state.
Biles' profile says that she currently resides in Spring, Texas — 1,715 miles up the coast from Belize City.
In 2000, when Simone was 3 years old, Ron Biles and his wife, Nellie, received a call from a social worker in Ohio, asking if they would be able to take in their young grandchildren, according to Heavy. Simone's parents were unable to care for her and her younger sister, Adria and their parental rights had been terminated. Before children are placed in foster care, state agencies usually reach out to any known family members to see if they are willing and able to take in the children, even for a temporary transition period, according to Heavy.
Nellie, who had just sent her two sons off to college, was thinking more along the lines of being a grandmother as she entered her 50s — not that she'd be starting over as a mom to two little girls. She talked a little about this transition in a phone call to Reuters before Simone headed off to Rio:
It's really hard to explain because you do not one day wake up and decide 'oh good, I'm going to be her mother and I'm going to love being her mother. It wasn't an easy transition because they didn't have any connection to me and I didn't have any connection to them. It was a very trying time for me because they were not my children, they were related to Ron.
But over the next several years, the girls bonded to Ron and Nellie — and Ron and Nellie bonded with the girls, so much so that they formally adopted them. Despite the protestations of the media — one reporter going so far as to insist that Nellie was not Simone's real mom — Simone and her sister do call Nellie mom, because that's who she is in their lives.
Ron and Nellie met when Ron was in the Air Force and Nellie was attending college in San Antonio. Ron was also then raising Shanon, Simone's biological mother, as a single father. Ron and Nellie eventually married, she became a nurse, and together they had two sons: Ron Jr. and Adam.
Nellie Biles has been Simone's biggest cheerleader throughout the Olympics, and her sparse, but inspirational, tweets have become beloved by many and will no doubt outlast the games: