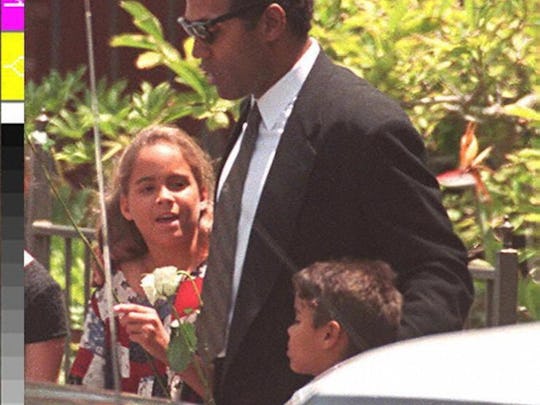 Vince Bucci/AFP/Getty Images
Where Is OJ Simpson & Nicole Brown's Daughter Sydney Now? She Has Moved On
With interest in the 1995 murder trial of O.J. Simpson reignited by the FX series American Crime Story, many viewers are also becoming curious about the tertiary characters, such as Simpson's and Nicole Brown Simpson's children, who were just 5 and 8 years old at the time of Brown's murder. No matter how strong fans' Google skills are, they'll likely have a hard time coming up with much information on where Sydney Simpson is now.
Sydney, the elder of Brown Simpson's children (Simpson has two more children from a previous marriage) has done a pretty impressive job of staying out of the headlines in the years since her mother's death. After her father was acquitted of her mother's murder, she and her younger brother, Justin, were subjected to a bitter five-year custody battle between their father and their maternal grandparents, who always maintained that Simpson was guilty. (Simpson's current legal team hasn't responded to Romper's request for comment regarding his alleged involvement in Brown Simpson's murder).
Brown Simpson's mother, Juditha Brown, was granted legal custody, but Simpson maintained primary physical custody, with the children often visiting their grandparents, until 2000, when Juditha agreed to allow Simpson to move the kids from California to Florida, according to ABC News.
Sydney attended the Gulliver Preparatory school in Florida and graduated in June 2004, according to People. "When I first met her, I was amazed to see how normal she was, considering all that Sydney's been through," a classmate's mother told the magazine at the time. Sydney was described as a "top student, a talented volleyball player and an independent thinker."
After graduating, Sydney attended Boston University, flying completely under the radar for quite some time. It was there that she allegedly met Stuart Alexander Lee, a man who claims to be her ex-boyfriend and spilled all about her to Radar Online in June 2014 (classy). Lee told Radar that at the time, Sydney was working as an events coordinator at an upscale Atlanta restaurant called The Canoe.
E! Online reported that Sydney currently lives in St. Petersburg, Florida, where she owns three properties and a business called Simspy, LLC. It's unclear just what her business is, but I know it's none of mine.