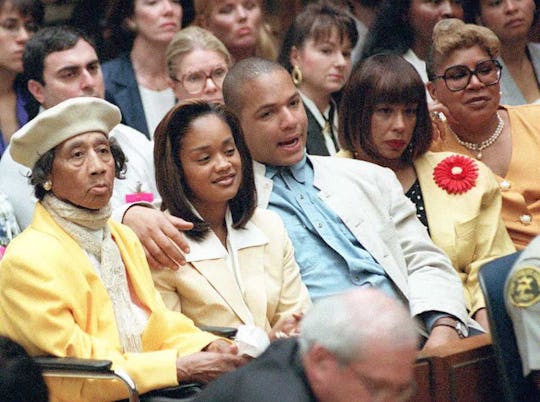 Pool/Getty Images
Where Is O.J. Simpson's Son Jason Now? He's Been Keeping A Low Profile For Years
Being the child of ex-NFL star O.J. Simpson clearly does not come without a few hiccups here and there. To have so much known about your private life — between the televised court case in 1995 to the books written by family members, the civil trial in 1997 and now a new television series The People V. O.J. Simpson: American Crime Story — can't be easy. Simpson has 4 children from two marriages: Arnelle and Jason from his marriage to Marguerite Whitley Simpson and Sydney and Justin from his marriage to Nicole Brown Simpson. There has been much speculation about the younger kids, obviously. They were the ones who lost their mom in such bizarre circumstances. But what of Simpson's older kids? For instance, where is O.J. Simpson's son Jason now?
As with the rest of the Simpson sibs, not a whole lot is known about Jason these days. Understandably, they seem to want to stay under the radar — Sydney Simpson even changed her name to Portia for a time while living in Atlanta, Georgia — but the family still tries to maintain a strong support group. Sydney and Justin are working and living peacefully in Florida. Arnelle Simpson, Simpson's oldest daughter, has struggled financially and fairly publicly, allegedly using up the majority of her father's money and reportedly sending his home into foreclosure back in 2012. But it's Jason's story that possibly remains the biggest mystery.
Rumors and conspiracy theories have been batted around for years now that Jason may have somehow been involved with Nicole and friend Ronald Goldman's deaths, although it's all just speculation. Allegedly, the theory goes that Jason was obsessed with his stepmother and killed her in a fit of jealous rage.
This theory was given traction by Bill Dear in his 2012 book O.J. Is Innocent And I Can Prove It. Dear, a Dallas-based private detective, tried to prove there was substantial evidence that Jason, 24 years old at the time, was furious that Nicole had skipped out on a family dinner he had planned and allegedly murdered her. Dear claimed that Jason then supposedly confessed to his father who tried to help Jason cover up the murders.
With these sort of damaging rumors swirling about, you can't really blame Jason for keeping a low profile. Though Dear's comments have been widely discredited, I can't imagine these stories have helped Jason. Already a troubled kid with a rough past (Jason was out of jail on probation during the high profile Simpson murder trial, after being charged with assault with a deadly weapon), he has stayed out of the public eye ever since. Currently, Jason, 45, is thought to be living and working in Atlanta close to his aunt Shirley in Atlanta. However with the rise of American Crime Story, he may soon find himself in the spotlight once more.