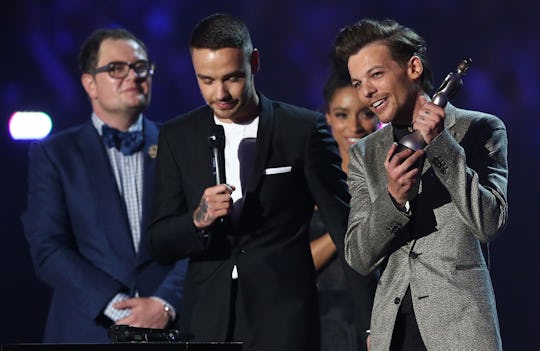 JUSTIN TALLIS/AFP/Getty Images
Where Is One Direction During The AMAs? Fans Were Hoping They'd Reunite One Last Time
When the American Music Awards kicked off Sunday night, One Direction fans were hoping against hope that the show might inspire the band to get back together one last time. So where is One Direction during the AMAs? Since the boy band is no longer together, the iconic and international heartthrobs showed up to the show solo (if they showed up at all). The 2016 AMAs did, however, mark a first for one of the former boy-band members. Niall Horan walked the red carpet and performed at the live show solo for the first time ever.
Before the show kicked off and before Horan the stage to perform his hit "This Town," he walked the carpet and talked to E! News' Jason Kennedy about the upcoming show. Of performing alone for the first time, Horan said,
You always get nervous before these kind of things. When it's your own gig, you can get away with it a little bit more. The whole crowd comes to see you, so you can kind of get away with a bit more messing about. But when it's this kind of thing, you get nervous—it's live TV. You're performing in front of the whole front couple of rows. It's just your peers and people that are artists, so you do get a little bit nervous. I'm not very nervous right now—I'm sure I will be when the performance comes closer.
But Horan's performance, while amazing, was yet another reminder to fans that the band's future is pretty bleak.
A year and five days ago, the band gave an exclusive statement to Entertainment Tonight while on tour in Ireland. Noting that the band was "taking time apart," Harry Styles said:
I think it's important for us to take the break and have it as a break. Obviously it would be naive of us to think that people aren't going to read into that in a ton of different ways, but we're just gonna take a little break next year.
Horan further explained: "We're not breaking up. We're literally taking time out to see our friends and see our family and reflect on what we've done over the last few years."
But after his solo performance at Sunday night's AMAs, the message to fans felt pretty permanent. With Horan on the stage alone without his One Direction bandmates, the future remains a terrifying mystery. And considering it's been a year since they've performed together, made music together, or made plans to reunite, the future of One Direction doesn't look too promising.