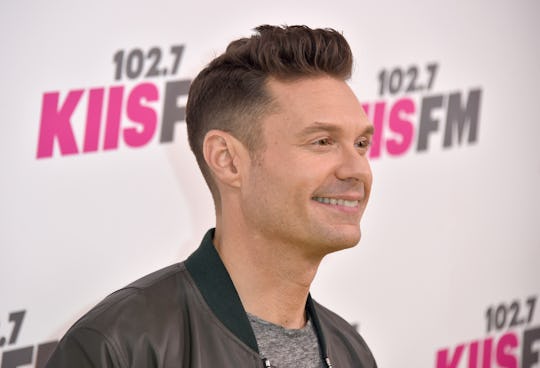 Frazer Harrison/Getty Images Entertainment/Getty Images
Ryan Seacrest Is Missing From The Emmys Red Carpet
When you think of the Emmy Awards, what do you think of? Amazing dresses, watching the background of the red carpet to see if your favorite celebrities are enjoying a little side-eye, and of course, Ryan Seacrest. Always reliable, always debonair... just always there. Except in 2017, apparently. Anyone tuning in to the E! Live From The Red Carpet on Sunday night might have noticed that Ryan Seacrest was missing from the Emmys red carpet, and it seems we have a mystery on our hands.
Seacrest has been hosting the E! Red Carpet event for the past 11 years with co-host, Guiliana Rancic, so it was a real shock to fans who tuned in on Sunday night... and no Seacrest. No subtly different-yet-perfectly-appropriate tuxedo. No inside jokes with celebrities who all seemed to know him and, what's even more miraculous, like him. American Idol host Seacrest, who himself co-hosted the Emmy Awards in 2008 with four other reality hosts (Heidi Klum, Tom Bergeron, Howie Mandel, and Jeff Probst) has been such a fixture on the red carpet that it seemed almost impossible not to find him there. Perma-grin at the ready, boyish charm turned up to mega-watt power. So what could he have been doing instead of interviewing all the beautiful people on the red carpet? According to his Twitter feed, he was drinking a milkshake on Friday for his "cheat day." We should have known something was amiss.
Fans were justifiably distraught to discover Seacrest was missing after such a long stint on the red carpet, and it probably didn't help matters much that Rancic was wearing black. Talk about foreboding...
Seacrest, who is now hosting Live With Kelly And Ryan to complete his mega-host trifecta and probably take over the world at some point, hasn't explained his absence publicly as yet. On Thursday's episode of Live With Kelly And Ryan, Seacrest was focused on talking about his girlfriend, personal chef Shayna Taylor, and gushing over her (reportedly) luxurious mane of perfect hair, according to People. But nothing about being a no show on the red carpet.
Seacrest did, however, leave another clue to his possible whereabouts on Twitter. On Friday he wrote that he was working on a speech for his friend's rehearsal dinner that night... meaning he could possibly be at a wedding this weekend? Honestly, I've never been more invested in Ryan Seacrest's whereabouts than I am this minute.
While fans were all missing Seacrest on the red carpet, the other hosts really stepped up for the event. Rancic, Anthony Anderson, Jason Kennedy, Kristin Dos Santos, and Justin Sylvester were all on hand to welcome the stars and tell them they looked beautiful and such. Or even just chat up the cast of Stranger Things.
Plus, there's always the possibility that the America's Top 40 host will be a surprise guest at the main event, or will host one of the after parties (which, let's face it, always look like way more fun than the actual show). It seems impossible to believe that Seacrest, who has often been called The Hardest Working Man In Television (let's not forget he was also one of the brilliant minds behind Keeping Up With The Kardashians, bless) would simply take television's biggest night off. How could this be, I ask you?
We shall have to wait to see how the night progresses, but perhaps he really has taken the night off. Perhaps he wanted to join the rest of us plebs and watch the 69th Primetime Emmy Awards as they were meant to be watched; on the sofa, in your pajamas, preferably with a large thin crust pizza in your lap. Good on ya, Seacrest.
Watch Romper's new video series, Romper's Doula Diaries:
Check out the entire Romper's Doula Diaries series and other videos on Facebook and the Bustle app across Apple TV, Roku, and Amazon Fire TV.