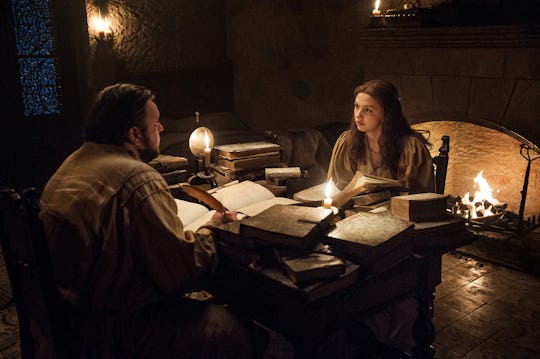 Helen Sloan/HBO
Where Is Sam Going On 'Game Of Thrones'? His Time In The Citadel Is Over
Just when Gilly was uncovering some serious Rhaegar Targaryen information, Sam decided it was time to go through a quarter-life crisis and pack up his little family to leave the Citadel. But where is Sam going on Game of Thrones? His time as a maester in training is apparently over and as he said, he's ready to stop reading about great men, and do something himself, so he's obviously on to bigger and better things.
Since Sam's whole reason for becoming a maester was so that he could serve at Castle Black, he might be returning to serve Jon and the other men he left behind when he traveled south. If someone had told him about his father and brother dying by way of Daenerys' dragon execution, he might be on his way home again, but as of right now, Sam still doesn't know. The Archmaester mentioned that he still hadn't broken the news to Sam.
Before loading up their wagon, Sam went into the forbidden scrolls section of the library and grabbed some to take with them. Before they left, he told Gilly, "I'm tired of reading about the achievements of better men." I doubt that he's going to go off to fight beyond The Wall, but since he figures his time and talents are best spent outside of Oldtown and the Citadel, Sam might be headed north again.
Since there are only two homes that we've really seen for Sam, either at his family's castle or at Castle Black, he's most likely on his way to one of those. And being that his last return home didn't get him the warmest of welcomes from his dad (again, who he has no idea is literally dust in the wind), he'd have no reason to think he should return to his childhood home.
Besides finally learning under the Archmaester in the Citadel, fighting beside and serving Jon was the most important thing Sam had going for him. He also apparently has all of the historical books to prove Jon's true parentage on Game of Thrones, even if he doesn't know it yet. It would only make sense for Sam to go back to where he'd spent so much time after being forced to take the black.
With the big war with the White Walkers about to start any day now and Jon already out beyond The Wall, it's probably the best time for Sam to make his reappearance anyway. And since that's the only logical place he could go where a maester (or, you know, a junior maester) is needed, it's his most likely destination. I'm betting the folks at Castle Black will be happy to see him.