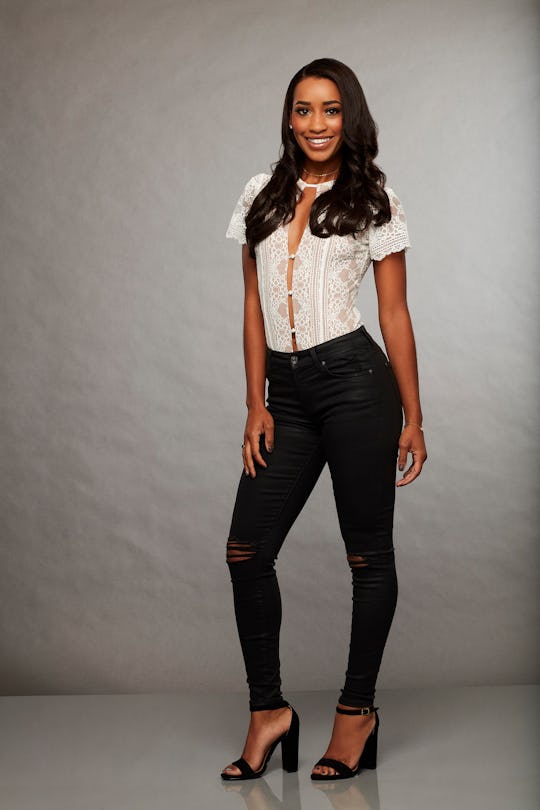 Craig Sjodin/ABC
Seinne From 'The Bachelor' Has An Interesting Backstory That May Work To Her Advantage
There are those contestants on The Bachelor who weave their hometown into their introductions — like Tia Booth from Weiner, Arkansas — and then there are those who have the lead find out a bit later, like Seinne. So where is The Bachelor's Seinne from? She lives in Los Angeles now — but is that her hometown or did she perhaps move there from somewhere else? Not only do she and Arie have their real estate career in common, but they've both lived in the same place for a good amount of time: Scottsdale, Arizona. Arie is still there while Seinne left, but it's still a talking point between the two of them.
According to her ABC biography, Seinne's hometown is Long Beach, California. She went to college at Yale University, which took her across the country to New Haven, Connecticut. Afterwards, she spent several years in Scottsdale... which happens to be Arie's hometown. While Arie was born in the Netherlands, he and his family moved to Scottsdale when he was 9 years old. The Luyendyk family would travel there a lot because of Arie Sr.'s racing career. They settled in Wisconsin when they made the move to the United States, but then went to Scottsdale soon after.
"We moved [to Scottsdale] because Indy Car used to do all their winter testing there," Arie told local paper AZ Central in an interview. "So, my dad just fell in love with it and we moved from Wisconsin."
Arie currently calls Scottsdale home as a real estate broker. As someone who works in real estate, though, he's not tied down to location as many other people are. "I think the great thing about real estate is that you can do it anywhere," Arie told AZ Central. "I'm open to as far as moving to another place and...pursuing that same career."
Even though the season just went underway, Arie has already gone on a hometown date of sorts. During Arie's second one-on-one date of the season, with Krystal, they flew down to Scottsdale (along with Arie's pup, Bastian!) to visit some of his old haunts and meet his parents. If that sounds intense, it absolutely was and I'm not sure what that says about Arie or his feelings towards Krystal, but perhaps he was already a little homesick?
Anyway, I wonder if Seinne feels the same way about her real estate career — that she could do it from anywhere — and if she's open to moving out of Los Angeles or she wants to stay put. Seinne and Arie haven't had a ton of screen time together as of yet, but she did win the Demolition Derby group date. Afterwards, Arie learned a little more about her, like that she went to Yale, she worked in real estate, and she lived in Scottsdale for awhile. This was all impressive to Arie, and Chris Harrison proved it in an interview with People. Seinne is one of Chris Harrison's top 5 contestants of this season. He told People, "This girl is flat out impressive... She's incredibly intelligent and she definitely has this zest for life that Arie is in awe of. He's a little bit mesmerized by her."
Well, that signals to me that Seinne stays put for awhile — though really, in Bachelor Nation anything goes, so what do I know. For now, though, I'll be rooting for Seinne. Perhaps she gets far enough to go back to Scottsdale herself, or have Arie visit her family in Long Beach. I know I'm getting ahead of myself, but I believe with Arie's obvious interest and Chris Harrison's blessing, she could go far.
Check out Romper's new video series, Romper's Doula Diaries:
Watch full episodes of Romper's Doula Diaries on Facebook Watch.