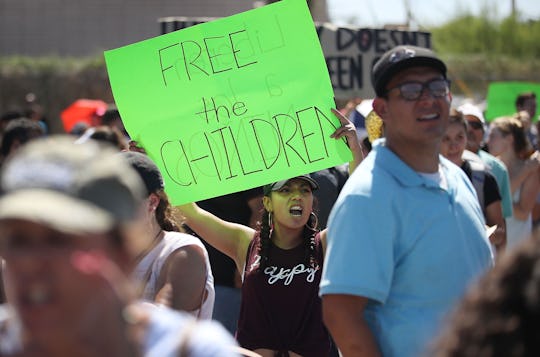 Joe Raedle/Getty Images News/Getty Images
Here's All The Info On The Families Belong Together Rally In Washington DC
On Saturday, June 30, hundreds of cities across the United States are holding Families Belong Together marches in protest of the Trump administration's policies regarding the children who were separated from their parents upon illegally crossing the border. No nationwide political rally would be complete without a Washington D.C. branch, considering the president and his staff all live in the capital city. In fact, Saturday's march is being headquartered in Washington D.C., leaving D.C. dwellers — and those planning to make the trip — wondering: Where in Washington D.C. is the Families Belong Together march?
The D.C. march will begin at 11 a.m. at Lafayette Square, right near the White House, according to the Facebook event for the march. Lafayette Square is located at Pennsylvania Ave NW & 16th Street Northwest, and the proximity to Trump's home should send a very clear message to him that family separation is unethical. "On June 30, we're going to the White House to tell Donald Trump and his administration to stop separating kids from their parents!" reads the D.C. branch of the march's description on Facebook.
"Families belong together, and we need to end this — now," the description continues. "Every day, this administration is cruelly separating children from their families. They have proven that whether it's at the border or in detention, we can't trust them to care for children."
If you're planning to attend the march, here are a few other things you should know. The D.C. march (as well as all the satellite marches) are expected to last around two hours, give or take, according to the march's official FAQ page for attendees. Additionally, organizers of the march are urging protestors to wear white, according to the FAQ, because the sea of white shirts will be a "striking visual symbol that will also connect attendees in solidarity to each-other and channel historic social justice movements unified by one color of clothing." The FAQ continues:
We believe if we can get a significant portion of the crowd to wear white, it will provide a compelling image for the media coverage and to capture the public's imagination.
Additionally, organizers encourage bringing homemade signs, and they note that the event is family friendly, and kids are welcome.
In terms of getting yourself to Lafayette Square, taking the public bus or train will probably be your best bet, according to Thrillist. For those coming from out of town, the FAQ page reported that there are various people independently organizing buses to D.C. for the march, but if you can't find one coming from your area after a Google search, you can organize your own and email dclogistics@moveon.org to coordinate bus parking.
There are also a slew of events in D.C. in the days leading up to the march, The Cut reported. On June 27, at the Freedom Plaza in D.C., the Center for Community Change hosted a full day of events in protest of Trump's immigration policies; and on June 28, the Women's March and other groups are organizing an all-day "mass civil disobedience" in Lafayette Park in D.C., according to The Cut.
Even though some progress toward ending family border separation has been made since the march was announced, people still have plenty of demands for the Trump administration. For instance, last week, Trump signed an executive order to detain undocumented families crossing the border together as opposed to separating the children from their parents, Vox reported. However, since the executive order still means innocent children will be detained, and it does nothing to reunite the separated families, a ton of work still needs to be done to remedy this crisis. Hopefully Trump and his administration actually listen to all the people who march on Saturday — because their message will be delivered loud and clear.