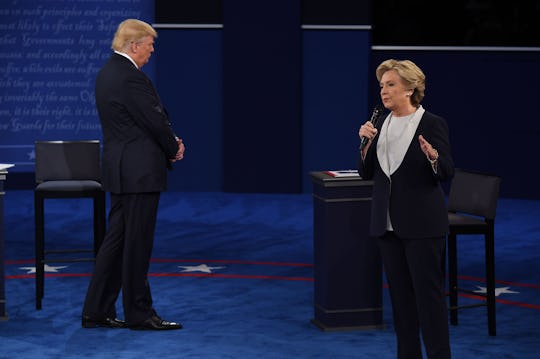 ROBYN BECK/AFP/Getty Images
Where Is The Final Presidential Debate? The Election Is (Thankfully) In The Homestretch
The presidential election has been nothing short of exhausting. It's been a battle filled with much contention and controversy. With two presidential debates down, Republican Party presidential nominee Donald Trump and Democratic Party presidential nominee Hillary Clinton will face off one last time on the debate stage before the Nov. 8 election. So, where is the final presidential debate? The election is certainly in the homestretch.
The third and final presidential debate will take place Wednesday, Oct. 19 at the University of Nevada in Las Vegas. The debate will be moderated by Fox News host Chris Wallace, the Commission on Presidential Debates (CPD) announced. Wednesday's upcoming debate will have an identical format to the first presidential debate, which will be a moderated discussion divided into six timed segments.
The topics for the third presidential debate are pre-determined – that's of course if nothing newsworthy pops up prior to, which has certainly happened in the past. As of now, the debate discussion will cover the following topics:
Debt and entitlements
Immigration
Economy
Supreme Court
Foreign hot spots
Fitness to be President
A lot of news surrounding the election has made its round since the second presidential debate. Trump's 2005 leaked conversation in which he made lewd remarks about his interactions with women, which described sexual assault, kicked off the debate conversation in the second presidential debate. Trump has denied all allegations and has never been charged with any crime. Trump's campaign did not respond to Romper's request for comment.
And since the debate, past sexual misconduct allegations against former President Bill Clinton and against Trump have significantly shaped the conversation surrounding the election this past week. What's more, WikiLeaks recently released more hacked emails from Clinton's campaign, which sparks more questions from voters already concerned with Clinton's past use of a private email server (about which she was questioned by the FBI and found to have done nothing criminally wrong).
It will certainly be interesting to see how the debate pans out next week, considering election day is quickly approaching and there's been a lot of concerning news to unpack. Not to mention the everyday politically-related concerns voters have about the nominees' stances, like climate change, the refugee crisis, healthcare, the economy, and the Black Lives Matter movement, to name a few concerns that are important to voters.
During a campaign rally in Florida this past week, Trump referred to the CPD as "rigged" and claimed he was "done," New York Magazine reported. "I have no respect for that group, by the way, I'm done," Trump said, according to New York Magazine.
Trump's "done" remark may have sparked some questions about his attendance next week, but New York Magazine cited a statement in the Daily Beast, in which Trump's spokesperson, Jason Miller, said he will participate in Wednesday's debate.
So there you have it, there will be a round three on Wednesday. One can only hope the debate helps bring some clarity in this extremely dramatic, but important, presidential election.