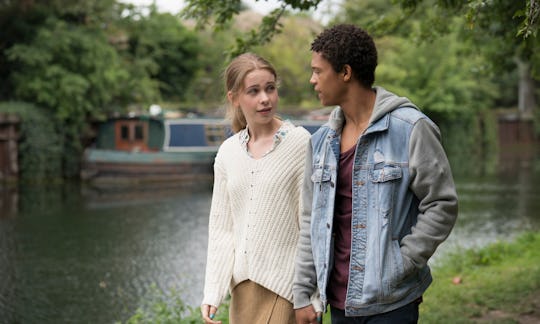 Netflix
'The Innocents' Is Set In The Perfect Locales For Its Supernatural Tone
Netflix's new supernatural series, The Innocents follows a young girl, June as she learns to navigate her new found shape-shifting powers alongside her boyfriend, Harry. The show has a pretty eerie aesthetic, not unusual for a series with dark and mysterious element. But because it wasn't filmed in a distinctly obvious location, you may want to know, exactly where is The Innocents set?
The Innocents was largely filmed in the United Kingdom and Norway. The Express reported that in many scenes were set in Skipton, Yorkshire in the UK, a small market town near Leeds. The show also features the fjords of Norway, the outlet reported, including Gudvangen, Modalen, and Western Norway's Nordhadland. While many of the locations may not be recognizable, the Express reported that some of the series was also filmed in London, featuring its iconic landmark Piccadilly Circus as a backdrop for a few of the episodes.
The quaint towns and picturesque locales of England and Norway are a perfect backdrop for the supernatural story of The Innocents. The series is centered around June (Sorcha Groundsell) and Harry (Percelle Ascott), a young couple who has run away from home to escape their over-protective and restrictive home lives. But when they embark on their new journey, June begins to abruptly shape shift into the people she touches, and eventually the two are chased down by a doctor Halvorson (Guy Pearce) who plans to experiment on her.
It's not a surprise that the series is set throughout England. The Innocents' writers and creators, Simon Duric and Hania Elkington are both British writers, and in an interview with The Upcoming, they revealed that they came up with the idea in a bar in London. "We used to hangout at Beer Gardens in North London and just throw ideas around," said Elkington. "There's simply a really good interlock of our tastes that we wanted to build a world together in."
In an interview with Decider, the showrunners explained why they chose to give their series such a dusky European setting, with Duric noting that the Norway location of the series added to it's visual tone. "We always wanted to be real, like you could touch it, feel it, and see it, and you as a person could walk through it. When Farren Blackburn, our director, came on board, he completely understood that," said Duric. "You look at it and say, 'Well, this has all got to be CGI, right?' But it's not. It's all there for real."
Along with Duric and Elkington, each of the show's main leads, Ascott, Groundsell, and Pearce also have major ties to Europe. Groundsell was born and raised in Glasgow, Scotland and eventually moved to London to pursue acting at the age of 16. Ascott, who is originally from Zimbabwe, has been featured in a few British TV shows over the years, including Youngers and Wizards vs. Aliens. And while Pearce — who is probably the most recognizable name in the cast — is Australian by nationality, the actor was actually born in England and has starred in a number of British projects, including the 2010 historical drama, The King's Speech.
So while The Innocents is set with a backdrop that wouldn't be recognizable to most Americans, its British and Norwegian locales are probably more familiar to its European cast and crew. I think that the small town European feel, combined with the majestic country and mountain sceneries depicted throughout the series, set a perfectly dark tone for the story of a runaway shape-shifter.
Netflix will begin streaming all eight episodes of The Innocents on Friday, August 24.