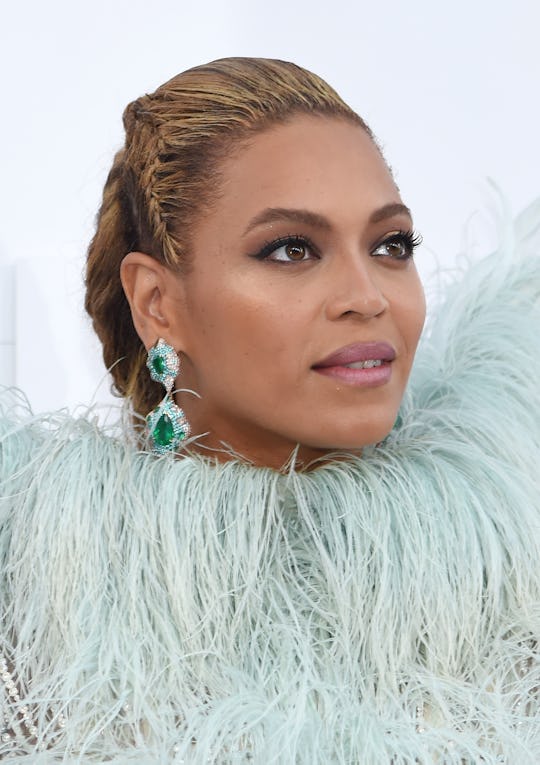 Larry Busacca/Getty Images Entertainment/Getty Images
Where To Get Beyonce's Pregnancy Pic Lingerie
Beyoncé broke the internet, and lifted our collective spirit, on Wednesday by announcing that she is pregnant. With twins. Even better? She announced the pregnancy with the Bump Pic To End All Bump Pics, which features the singer kneeling, surrounded by silky flowers in the most perfect underwear and bra set imaginable. We all cannot reach Beyoncé-goddess-levels, but we can buy Beyoncé's pregnancy announcement lingerie and try. And try we will.
The good news is that both pieces are actually attainable and affordable. More expensive than Hanes, for sure, but not totally out of reach. The bad news? Well, there is no bad news, this is Beyoncé.
The bra appears to be the Agent Provocateur 'Lorna' bra, made from burgundy tulle with three pink little bows that you can buy on Net-a-Porter for just $130, which is actually a steal since the brand's pieces usually run around $300. This was an easy find, since The Queen dons their stuff in videos and was even spotted shopping there while she was pregnant with Blue Ivy.
The bottoms are Liviara's "Dauphne" underwear, which are actually more sheer than they look in Beyoncé's picture, and just have the ruffle accent. They are $95, which yes, is basically a grocery budget, but they are sourced and made in the United States, so that has to count for something right? They are so pretty and look so comfortable. Both pieces, for the record, are sets. The bra comes with matching tulle underwear and the bottoms come with a silk, ruffled bra that could only be worn in the bedroom (because how do you hide that fluff under a t-shirt?). Beyoncé is #lingeriegoals all around.
Some blasphemous fans on social media were upset that Beyoncé doesn't match her underwear, which begs the question: are you guys all out there matching your bra and underwear all the time? What is wrong with you? That really makes it harder out here for the rest of us who are happy simply to find "the good pair" (you know you have a favorite) when we want it.
Also, "matching" is really all about color coordination anyway and Beyoncé pulled it off perfectly. Between the green veil, the burgundy bra, and the multi-colored flowers, the whole thing has a real Crayola Bold color palette going on and we are very, very into it. (The bold colors are, and always have been, the best, in case you forgot.)
Consider this, too, if you're still hating on not wearing matchy-matchy lingerie: maybe it's a sign. We don't know how far along Bey is, but it's possible she knows the gender AND SHE'S HAVING A BOY AND A GIRL. Beyoncé is all about imagery, right? We know how swoon-worthy Blue Ivy's wardrobe is, so can you just imagine how cute Jay Z and Beyoncé's son would be in tiny Air Force 1's and a Yankee hat? It's all too much to take in at once.
Either way, boy, girl, sneakers or no sneaks, they will definitely be absolutely bey-utiful. The world needed this right now and in the meantime, at least we can stock up on Beyoncé's semi-affordable lingerie.