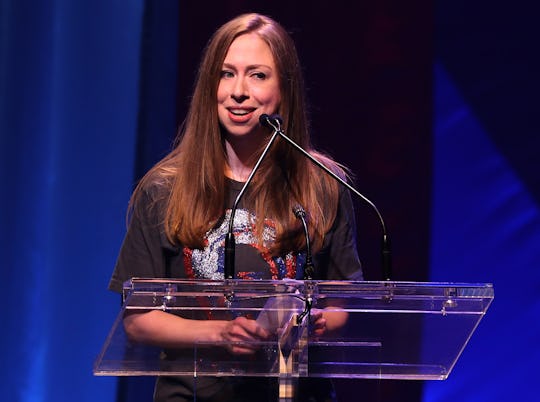 Justin Sullivan/Getty Images News/Getty Images
Chelsea Clinton's Children's Book Will Be Powerful
Last month, when Massachusetts Sen. Elizabeth Warren took the floor during Alabama Sen. Jeff Sessions' nomination hearing as U.S. attorney general, she was silenced. Her fellow senator, Majority Leader Mitch McConnell, shut down her criticisms of Sessions, justifying his actions with three words that became a battlecry for the feminist movement. Now former first child Chelsea Clinton has turned McConnell's statement into illustrations honoring more than a dozen historic women. And of course, everyone wants to where to buy Chelsea Clinton's children's book, She Persisted. Details have yet to be released, but its publisher, Penguin Young Readers, has said the book will be available in May.
She Persisted will feature 13 prominent and groundbreaking women "who embodied the spirit of persistence throughout American history," according to a press release. Clinton's children book will include stories on abolitionist and humanitarian Harriet Tubman, author and activist Helen Keller, labor activist Clara Lemlich, journalist Nellie Bly, prima ballerina Maria Tallchief, civil rights activist Claudette Colvin, politician Margaret Chase Smith, physicist and astronaut Sally Ride, Olympic sprint champion Florence "Flo-Jo" Griffith Joyner, media leader and philanthropist Oprah Winfrey, U.S. Supreme Court Justice Sonia Sotomayor, and Ruby Bridges, the first black child to integrate an all-white elementary school in the South. Penguin Young Reader also teases "a special cameo" in She Persisted by a yet-to-be-named female figure. (Hmm, I wonder who that could be. Any guesses?)
The title, She Persisted, references McConnell's precarious explanation as to why he brought a vote to force Warren off the Senate floor last month. At the time, the majority leader from Kentucky said Warren "was warned. She was given an explanation. Nevertheless, she persisted." Feminist co-opted McConnell's wholly misogynistic comment and turned it on its head, instead using it as a rallying cry for people who refused to back down from what's right.
Clinton, who is a New York Times bestselling author, said she is writing the inspirational children's book "for everyone who's ever wanted to speak up but has been told to quiet down, for everyone who's ever been made to feel less than," according to Entertainment Weekly, which scooped the story. She continued,
The 13 women in She Persisted all overcame adversity to help shape our country—sometimes through speaking out, sometimes by staying seated, sometimes by captivating an audience. With this book, I want to send a message to young readers around the country—and the world—that persistence is power.
She Persisted will be written by Clinton and illustrated by German-born artist Alexandra Boiger, who's best known for her children's book, Max & Marla. Philomel Books, an imprint of Penguin Young Readers, will release the picture book on May 30.