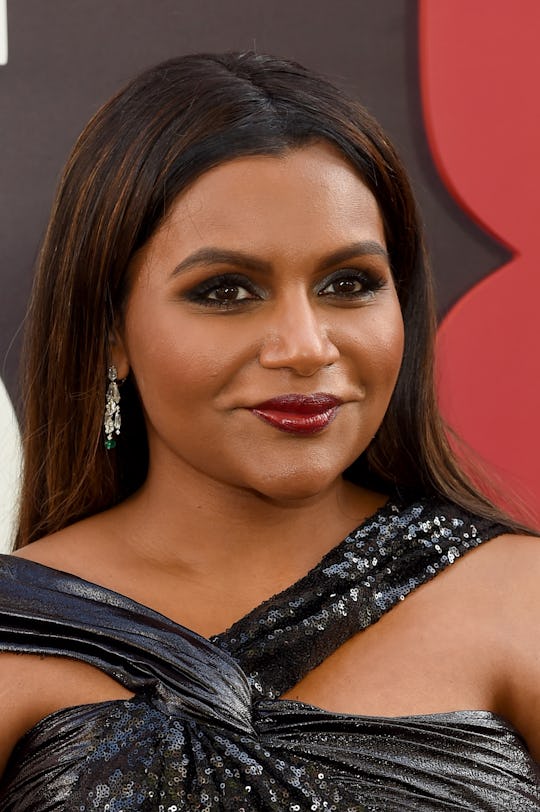 Jamie McCarthy/Getty Images Entertainment/Getty Images
Here's Where You Can Buy Mindy Kaling's Stroller, Because It's A Literal Work Of Art
Mindy Kaling has been #goals for women for a long time, but since becoming a single mom to her daughter Katherine, she's an even bigger inspiration. I mean, it's pretty amazing to raise a kid by yourself, especially when you're a major power player in Hollywood, but Kaling's inspiration goes beyond that. I personally love that she's surrounding her daughter with strong women like Oprah, that she's kept her child out of the spotlight, and, honestly, I'm in love with her baby gear. If you're like me, you're probably wondering where to buy Mindy Kaling's stroller, too, and I'm just going to be honest with you — we might need a friend like Oprah just to chip in with us on this thing.
Back in January, Kaling had shared a sweet Instagram photo that didn't give fans much of a glimpse of baby Katherine, but it sure did let us lust over the infant's new wheels. People reported that the stroller, which is pink and patterned with gold cherubs, is designed by Jeremy Scott in a collaboration with CYBEX, which produces several items of baby gear including carriers, car seats, and other strollers. But Kaling's stroller goes beyond just the pink cherub pattern. It also includes giant gold wings and black and gold rims. Basically, I want someone to push me around in one of these things.
I mean, look at that thing. Gorgeous, right? But unlike some celebrity favorites, this isn't exactly a one-of-a-kind and it is attainable — for a price. For starters, a quick Google search pulls up the Cybex website, which has a list of retailers, along with third-party websites that you can order the stroller from including The Tot and Albee Baby. But the prices are going to vary. The website for Cybex lists the carry cot, which is just the bassinet piece on top of the stroller, for 499,95 €. In a conversion chart, that came out to a little under $600, with similar versions of the carry cot (in blue), retailing for $500 at Albee Baby's website. But unless you're planning on holding the bassinet as you walk around town, you'll also need to purchase the frame for the cot. As far as I can tell in my research, you can't just buy the frame separately — but you can buy the frame with the MIOS version of the stroller, which is for older babies to sit either forward or rear facing. That stroller, which features the same pattern, cherub wings, and gold and black rims, retails for around $1,250 on The Tot website. The Cybex website lists that same stroller at 1,799.95 €, which roughly converts to around $2,200.
So, you know. A real bargain.
OK, of course it was going to be expensive. And if you pick up the MIOS version of the stroller for $1,250, but also buy the carry cot at around $600, you're still clocking in under $2,000. (If you use websites other than the actual Cybex page, that is.) It's not totally absurd, honestly. The stroller I lust after is a cool $1,400 on its own, so I really can't knock getting a stroller plus a bassinet attachment for less than two grand. And, to be totally fair, this Cybex stroller is amazing. But if you're still not feeling the price, but love the look, you can check out other items in the collection including baby carriers, diaper bags, and stroller foot muffs. There's also a less cherub-like version that still includes the wings, but the fabric doesn't feature the cherub pattern. So, you know, still totally bold without being too angelic.