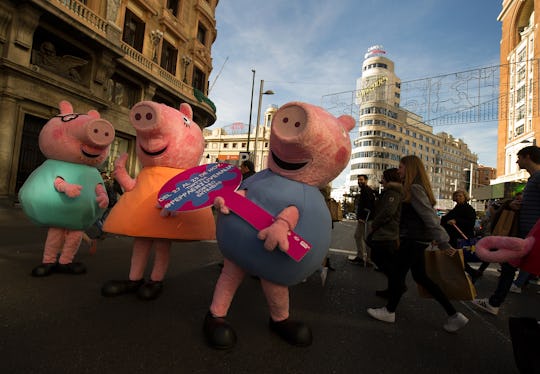 Denis Doyle/Getty Images News/Getty Images
Where To Buy 'Peppa Pig' Books, Because They Are Just As Good As The Show
If your child has been enjoying watching episodes of a show featuring a bubbly pink pig named, Peppa, then you might be wondering where you can buy Peppa Pig books. The UK-created animated show is certainly widely popular, ranking in more than $1 billion in global merchandising revenues in 2014, according to The New York Daily News. And for finding and purchasing Peppa Pig books, it seems as though parents have a lot of options.
On the Peppa Pig website, that features clips of the show that airs on Nick Jr., parents can order personalized books, in which they can change the skin, hair, and eye color of a character in the book to match their child's appearance. In one example of how the personalization works, Peppa "goes to" (insert your child's name) party, with a character that you created that resembles your child. Pretty cool, right? These books appear to ship out of the UK and are priced in British pounds, but, for parents in the United States, the site provides options for international shipping at penwizard.com. The personalized books for U.S. customers are selling for $24.95.
Barnes & Noble also sells Peppa Big books, like, The Tooth Fairy, Peppa's First Pet, Peppa's Story Time Box, Peppa Pig and the Lucky Ducks, and many others, in varying options for hardcover, paperback and in NOOK books. The prices range from $3.99 to $29.50, depending on the cover, whether it has sounds, or other additional features, like a mini chalk board.
The Tooth Fairy, $4, Amazon | Peppa's First Pet, $7, Amazon | Peppa's Story Time Box, $10, Amazon | Peppa Pig and the Lucky Ducks, $10, Amazon
(Check out this clip of Daddy Pig "hiding" a donut in his tummy... I know I can relate, but, maybe swap that donut for a cupcake.)
And for the Amazon and strictly-online-ordering lovers, Peppa Pig is available on Amazon with options to order books and other related items, like, a Peppa Pig classroom set, and a Peppa Pig family campervan set, selling for around $14 and $27, respectively.
Family Campervan Set, $27, Amazon
With Peppa Pig's popularity, it's not surprising that there are so many ways for parents to grab Peppa Pig books for their little ones. Other stores and kid-friendly stores,. like Toys R Us, appear to be selling them as well. And if your child loves watching and reading Peppa Pig, they may be excited to hear that Peppa is touring the U.S again in 2016, kicking off a show in Brookville, New York, on Sept. 14. Tickets to see the one and only Peppa (and, for my '80s and '90s parents, not to be confused with a Salt-N-Pepa tour) can be purchased here.