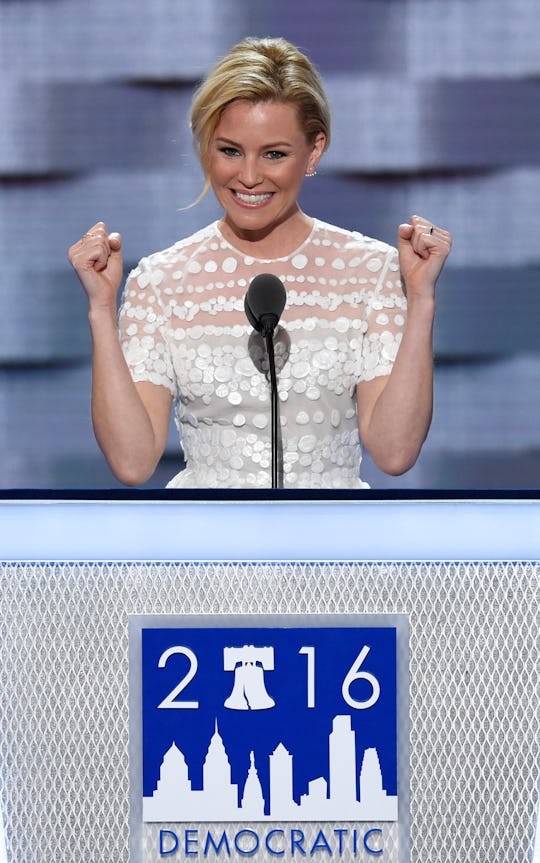 SAUL LOEB/AFP/Getty Images
Where To Buy The DNC 'Fight Song' Because You're Going To Want To Hear It Again
Say what you want about Democratic Presidential nominee Hillary Rodham Clinton (and certainly, everyone seems to say what they want), the woman's got some fight in her. In her two decade career in the spotlight, where she has been the subject of scandal and speculation and exhausting sexism, she has never stopped fighting. This much we know for sure. So there really isn't a better song for her than that fantastic a capella, all-star cover version of "Fight Song," is there? At this point, you really need to know where to buy the DNC "Fight Song" because you're going to be humming it to yourself for days anyways.
Elizabeth Banks produced the Clinton tribute, a Pitch Perfect-esque cover of singer Rachel Platten's hit "Fight Song" featuring Frozen's Idina Menzel, director Rob Reiner, Modern Family castmates, Mandy Moore and the continually kick-ass Jane Fonda. The song successfully reminded us of two things: First of all, Clinton is a fighter. Second of all, the music at the DNC is WAY better than the RNC. The difference, to quote The Donald, is major, it's yuuuuge.
While the "Fight Song" cover isn't for sale anywhere yet, luckily, you can tune into the video (and it is sort of one of those performances where the video is the best part, right?) for free on YouTube:
The music video debut on Tuesday night was a lovely moment of celebration for Clinton on her historic success. A moment for Democrats to come together as a unified party after months of being divided. A light, heartwarming moment of togetherness that sure, might have been a bit sappy. But some of us enjoy the sappy, ok?
And while I didn't actually get a chance to see Vermont Sen. Bernie Sanders shaking his tush to the music... I don't know, I kinda assume he was into it. Because now, it's not just her fight, it's their fight.