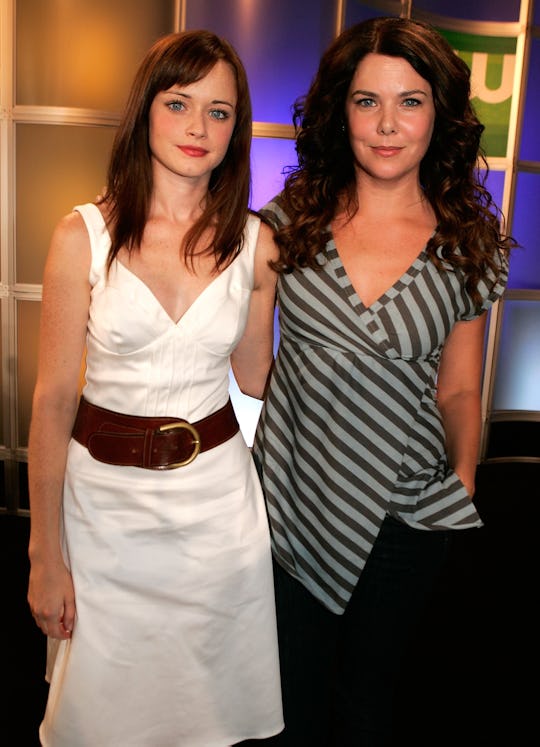 Kevin Winter/Getty Images Entertainment/Getty Images
Where To Buy The 'Gilmore Girls' Funko Pop! Figures Just In Time For The Holidays
Hold onto your questionably fashionable hats and Luke's coffee cups, Gilmore Girls fans: Once you've watched the show's highly anticipated four-part revival (Gilmore Girls: A Year in the Life) on Nov. 25 on Netflix, you'll want to be ready to purchase the recently announced Funko Pop! figures featuring your favorite characters from the beloved series. The set of three includes mother-daughter duo Lorelai and Rory Gilmore, plus Lorelai's BFF (and brilliant chef) Sookie St. James. Coming in December, the only question left is: Where can you buy the Gilmore Girls Funko Pop! figures just in time for the holidays?
Once released, the Gilmore Girls figures will be available for purchase directly from the Funko Pop! website. In addition, the company partners with various retailers to sell their products, including Target, Gamestop, Barnes & Noble, and more. Find a store near you by inputting your ZIP code on the Funko Pop! locator map.
Just in case you've been living under a rock, Gilmore Girls creators Amy Sherman-Palladino and Dan Palladino announced the show's revival back in January, after years of fans hoping and wishing for a return to Stars Hollow under the tutelage of the quirky town's architects. (Quick refresher: The Palladinos left the show before its controversial seventh season, so the series' rebirth is largely being seen as a chance for the creators to "right the wrongs" that occurred after their 2006 departure.)
Each of Netflix's four 90-minute movies will take place during a season of the calendar year, beginning with winter and finishing with fall. The episodes are set in the present day, approximately eight years after Rory's graduation from Yale and Luke and Lorelai's reunion. All of the show's major characters will return — with the sad exception of family patriarch Richard Gilmore, whose portrayer Edward Herrmann passed away in 2014. Other fan favorites who will appear in the revival include Kirk, Paris, Taylor Doose, Miss Patty, Babette, Michel, Lane, Gypsy, and all three of Rory's former paramours (Dean, Jess, and Logan). A bunch of new characters will also be introduced.
Among the questions looming over the Nov. 25 premiere:
You can have your stores on Black Friday. When the clock strikes midnight Nov. 25, I know where I'll be: sitting on my couch, surrounded by junk food (as only Lorelai and Rory would do), watching Lorelai smell the first snow of a winter in Stars Hollow. And you can bet those Funko Pop! figures will be on my Christmas list, too.