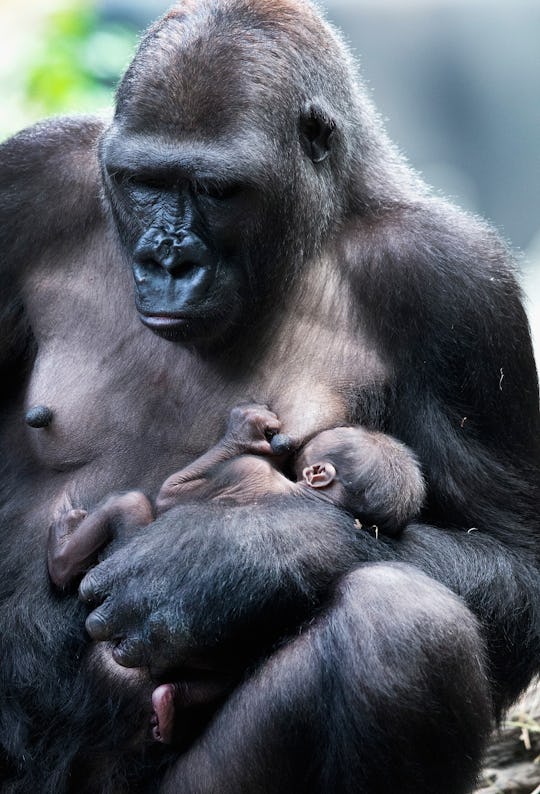 Scott Olson/Getty Images News/Getty Images
Where To Donate To Gorilla Conservation In Harambe's Name
When a 4-year-old boy got into the gorilla enclosure at the Cincinnati Zoo on Saturday, the situation got dangerous awfully quickly. While the zoo officials were able to coax the female gorillas out of the enclosure and away from the boy, a 17-year-old, 450-pound male gorilla named Harambe would not leave. The dangerous animal response team made the difficult decision to end the gorilla's life in order to save the little boy. And animal lovers everywhere were heartbroken, wanting to know where to donate to gorilla preservation in Harambe's name.
The death of Harambe has sparked widespread outcry, with many critics speaking out against the zoo's decision to kill the rare gorilla. Zoo Director Thane Maynard held a press conference on Monday defending the zoo's decision.
"The gorilla was clearly agitated. The gorilla was clearly disoriented." Maynard said of the silverback gorilla Harambe. "Looking back, we would make the same decision."
After Harambe was killed, a few dozen protesters staged a vigil outside his enclosure. Mourners have been leaving flowers and well-wishes at a gorilla statue in the Cincinnati Zoo as well. On a larger scale, Change.org began a petition to hold the parents of the unnamed boy responsible for the death of the gorilla. The petition has approximately 450,000 supporters so far.
While blame is being tossed around by the general public — the Zoo, the parents, the inadequate fencing — there is clearly one unifying factor: nobody wanted Harambe to die. Not the little boy, not the parents of the little boy who have since come under heated criticism, and certainly not his handlers. The outpouring of love and grief for the rare gorilla has been something amazing to behold. And I think something positive can come from the unfortunate incident.
There are some wonderful gorilla conservations around the globe who would benefit from financial support. You can donate money to the International Gorilla Conservation Programme, which works to protect the endangered mountain gorillas of Rwanda, Uganda, and the Democratic Republic of the Congo.
There is also the Mountain Gorilla Conservation Fund. Founded by Ruth Keesling, an American philanthropist, the MGCF works to protect mountain gorillas in their natural habitat. When Keesling started, there were 248 known mountain gorillas in the area; there are now more than 800 gorillas. Keesling also started the Wildlife Animal Resource Management school in Uganda, where Ugandans, Rwandans, Kenyans, and Tanzinians can learn to become park rangers or wildlife veterinarians.
The World Wildlife Fund has an African Great Apes Program, which is working towards guaranteeing a future for all subspecies of apes, including gorillas and chimpanzees.
All of these gorilla conservation programs are focused on protecting gorillas in their natural habitats. So if you are looking to show your support for gorilla conservation in the name of Harambe, consider any one of these an excellent choice. Because wouldn't it be great if something positive came out of this tragedy?