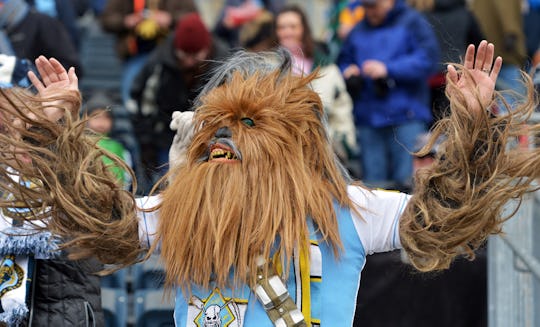 Drew Hallowell/Getty Images Sport/Getty Images
Where To Get A Chewbacca Mask If It's Sold Out, Because Of Course You Need One
Every time I think I'm killing it as a super fun fan-mom, some other mom comes along and blows me out of the water. Thanks a lot, Candace Payne and your noise-making Chewbacca mask. You've just made my "Mother of Dragons" beer stein look all kinds of lame. And now I'm going to have to get out there and find me a Chewbacca mask of my very own like the pathetic copycat I am. That's if I can find one at this point. Where does a girl get a Chewbacca mask if they're sold out? Because yes, I need one and you know you do too.
If you haven't been on the "internet webs" since Thursday, you have probably missed out on the best four minutes of your life so far (ok, overselling, but you know what I mean). Non-famous, regular mom Candace Payne shared a video of herself on Facebook Live trying on an electronic Chewbacca mask and dying of laughter, which probably sounds boring but in reality is definitely not.
The video has been viewed over 142 million times, and nothing especially exciting happens, except that Payne essentially loses it when she sees herself wearing the mask and making the sounds ("That's not me! That's the mask!" she laughs hysterically).
After watching the video (three times, guys, what am I doing with my life?), I had two thoughts in quick succession: one, I want to be this girl's friend. And two, where do I get my own Chewbacca mask? (Mine is going to be studio quality, Candace, don't be jealous.)
I have already found my Chewbacca mask on Amazon, and the site has several versions available in a range of prices (delay, you must not, as the masks are selling out in major retailers at alarming rates). I am eyeing up the supreme edition, which retails for around 70 dollars. Walmart carries the same electronic Chewbacca mask that Payne — who is now known the world over as "Chewbacca Mom" — wears in the video.
The mask can also be found online at Toys 'R' Us, Target, and on eBay... although you might want to avoid eBay if you're looking to save a few dollars: An electronic Chewbacca mask was reportedly sold on the website for $500. Payne got her mask at Kohl's, as she says in the video, and that bit of free advertising hopefully means she doesn't have to pay when she shops at Kohl's until the end of forever.
One thing Chewbacca Mom's infectious happy laugh and wit have gotten her already: a guest spot "driving" James Corden to work with Star Wars: The Force Awakens director J.J. Abrams in the backseat on The Late Late Show with James Corden.
So why is everyone loving on Chewbacca Mom so hard? Well... she's real. She told Corden that she posted the video as "proof for all of her Facebook friends that this mask was for her, not her kids", which says to me that being a mom hasn't forced the kid out of her. She's self-deprecating in a way that doesn't take away from her own sense of worth. And she is enthusiastic about basically everything. What's not to love?
Peter Mayhew, the actor who has played Chewbacca throughout the entire series, agreed. He sent a note to Payne inviting her and her family to join him at a Dallas Fan Expo for a meet and greet. So... yeah, she gets to meet an actual Wookie.
Some might think we've all lost our minds, paying this much attention to a woman in a Chewbacca mask in her car. But you know what? I think we all want to surround ourselves with people who are happy. And if we can't find them in real life, we can seek them out on the Internet. Where we can also buy ourselves Chewbacca masks and share in the simple pleasure of being silly.