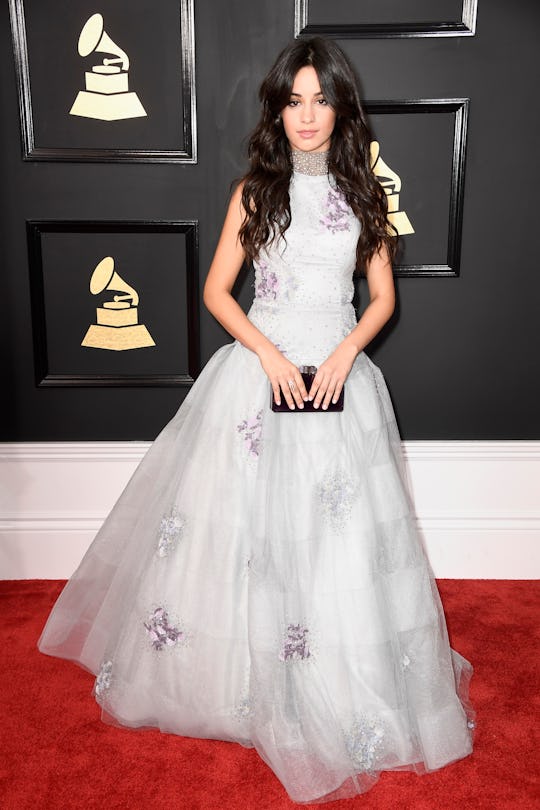 Frazer Harrison/Getty Images Entertainment/Getty Images
Where To Get Camilla Cabello's Grammys Dress
Have you ever secretly wanted to look like a perfect princess? Ethereal, magical, like you're walking on tiny clouds made just for you? Then you're going to want to know where to get Camila Cabello's Grammys dress before everyone else runs out and gets it for themselves.
The former Fifth Harmony singer killed it on the red carpet for her first solo appearance. Wearing a grey and purple tulle dress (with a sequined turtleneck, I mean come on!) embellished with flowers and her hair down loose, she was basically the next Disney princess, but in real life. If you, too, have an awards show to attend (or maybe even a date with a prince and slipper at a remote castle somewhere), Cabello's dress was created by Miri Couture, a bridal salon in New York. They create evening gowns, cocktail dresses, and ready to wear outfits for princesses and brides in the making. To complete Cabello's look, keep your hair sort of beachy and soft, your makeup light, and your smile at, like, half-mast because that seems to be the best look for everyone. And oh, yes... be 19 years old and beautiful. That looks to be the real trick to looking fabulous. No, I'm not bitter.
While this look is completely new for Cabello, who has favored thigh-high slits, mini skirts, and skin-baring ensembles in her past life as a member of Fifth Harmony, it totally suits this stage of her life where she's clearly branching out and enjoying her newfound independence. After Cabello announced she would be leaving the all-girl group in December, the singer has been having a rough time in the press as everyone speculated about "what went wrong" with the group (jealousy? ego? in-fighting?). So it's nice to see Cabello just enjoying looking lovely in a great dress at an awards show.
So what do you do if you can't quite afford or find Cabello's exact dress? Well, you can visit SimplyDresses.com for gorgeous silver ball gowns like Cabello's. If you want something a little more purple, check out these dresses at promgirl.com. Want something in a lilac chiffon? (I do... I really, really do.) Unique prom vintage carries some, well, unique vintage prom dresses. Turtlenecks, embellishments, crystals, full tulle skirts and soft colors. These are the hallmarks of Cabello's Grammys look.
As much as the hard-edged, rocker look rules at the Grammys every year, on account of actual rock stars are generally in attendance, there was something sort of pure and sweet about Cabello's ethereal look. So go forth and copy.